May 7, 2012 by Christine Scaman · 17 Comments
With the introduction of recent 16 Season personal colour analysis systems, this question keeps appearing in my Inbox:
Who's Right?
Are there 12? 16? 44? Google? The ultimate system is the one that places each person in their own Season, since the variations are infinite. For me, a PCA system should be widely available, offer reproducible results (meaning 2 analysts would come up with near-identical colours for the client, regardless of the heading they're given), with swatches that the woman understands visually and rationally so she can see and think her way to buying the best items.
I like having clear-cut divisions in the colour dimensions between each group, which is do-able when the number of groups is lower. The span will include people who seem to look very different in each group, but every colour will be right for every member of the respective groups. The congruity between the colours in the person and what they wear is measured to be very high as long as the drape and swatch colours are scientifically consistent – because the genetics of human skin pigmentation is quite consistent. Could it be whittled down more? Sure. Much as you want.
Even already at 12 Seasons, the colours can be supremely hard to tell apart between related Seasons – at least, they are for me, appreciating that I am neither authority nor expert and never will be. I am a student trying to understand something complex, nothing more. Many have more sensitive colour vision than I have. How do people like me tell each swatch apart when the number of groups gets even higher than 12? I don't. I can't. What happens is that colours get shared between groups, or that's what my eyes register. So in a 28 Season system, a "darker Soft Summer", like Katie Holmes, would presumably move a bit into Winter territory or borrow a few real Winter colours, since her colouring gives the impression of blurring the Summer/Winter line a bit.
Sometimes it works well, sometimes it doesn't – and that's if a shopper can tell the difference between her Season, her Season with a touch of Winter, or her Season actually wearing Winter. Caution is needed. A person of Soft Summer colouring would look overwhelmed by her clothes or tired in the saturation of Winter, either grays or colours, as Katie can in too dark hair and makeup. So it's the job of the analyst and the analysis system to get clients crystal clear on which colours to wear or avoid.
High colour saturation. Looks great, I think.


Katie Holmes Pictures
We know right away the photo below is more real. Her essential dustiness feels right. They had to up-colour her eyes for the picture above to look balanced. Works in the digital world, not the real one.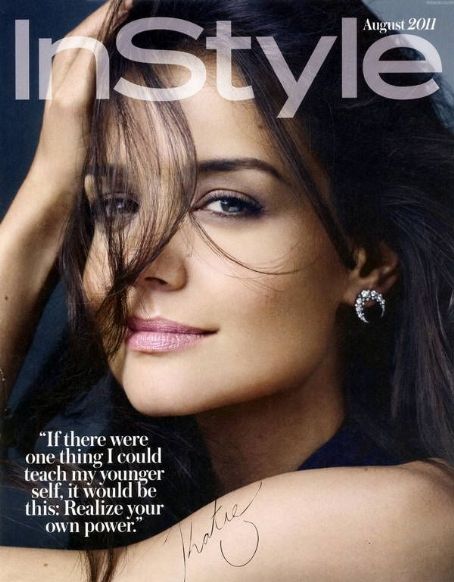 Katie Holmes Pictures
And then there's being clear on which colour goes with which Season. This is muted to be Winter's green, probably through sheerness and texture of fabric, though the black added to the green is Winterish – makes it an interesting choice for a Summer woman with more than usual darkness, but awfully hard to pin down Season. There's too much crossover. She balances it pretty well, though her eyes are fading a bit. Lighter eyeliner and more lip colour could help.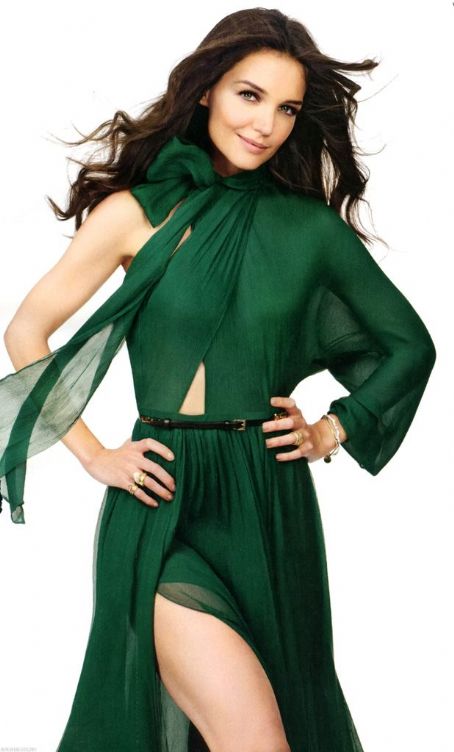 Katie Holmes Pictures
I don't disagree that there are darkness/heat/saturation ranges in each type of colouring group. Of course there are. With fewer Seasons (and carefully calibrated palettes), no colour is a mistake. With movement between Seasons, some could be. A very astute and colour-perceptive Soft Summer knew that even within her highly accurate palette in the photo below (from True Colour Australia), some colours were better on her. She used paint chips (Pittsburgh Paints) to further subdivide her palette to create her very own colour constellation. (with big thanks to Kathryn for permission to use the photo)
How many Seasons a PCA system has would have no influence over my choice as a client. Really don't care. I put that on the "Paying Attention To The Wrong Things" bus. What would matter to me is:
1. When the analysis is done, what do I know, what do I have, and how successfully can I use it? First, how accurately prepared is my shopping palette – the reverse of that being, how likely am I to make shopping mistakes?
2. What knowledge about my colouring did the analyst share and teach and demonstrate? Doesn't matter so much if she can tell the difference, though I sure hope she could…but can I tell the difference at least a little, or do I know for sure why she chose what she did? Otherwise, I'll be haunted by uncertainty forever more.
No analyst, from any system, wants women saying "I was typed an Autumn twice, a Winter once, an Autumn flowing Summer…" You know the rest. That should never happen again.
The analysis process and the colours of the drapes and palettes need to be standardized and correct, every woman, every analysis. If
one analyst is using full spectrum lights in a neutral gray room,
one is using sunlight in a greeny tan hotel room,
one doesn't mind if you wear makeup,
one is swirling drapes around in a busy hair salon and takes 20 minutes to pronounce a Season,
one has an unlimited number of drapes,
one has 4 sets of drapes that she mix-and-matches,
is it even remotely possible that women will understand their colouring and be given the same palettes to shop with? As long as the presence of one colour changes the way surrounding colours appear, and it does, then you have to be careful where and how you do this or have super-calibrated eyeballs. Not saying you must have those lights and the grey room. In one of my travel locations, I use overcast-day lighting. It has no colour effect on the person's face and it works really well. Any non-neutrally coloured items in the room are covered with gray dropcloths.
We want emp. Hold on. Where do I get off presuming to speak for the group? Never would I do that. I'm the late arrival still getting caught up. Still, an outsider looking in might see a dedicated and creative assembly who have more in common than not, and also maybe a few holes, the patching of which might move the entire profession forwards. Dell, HP, and Sun don't have to merge but they do have to follow similar rules about components and conditions to get computers to work as consumers expect. And then, everybody owns a computer, everybody knows their best colours. Fragmented as we are, mass appeal is unlikely. Not enough mass faith.
I dream of an empowered woman saying "I was analyzed by Light Interior Colours. My main colour family is Golden Autumn Light but my colouring found better agreement when a bit of Dark Pewter Light was added in. I get that Soft Copper Light colours look too pasty and bland, even though Mom was always stuffing them through dressing room doors. I took her with me so she could see this for herself."
And her colleague responding, "That dark chestnut hair you have now took 10 years off you. I'm proud of you for having the stamina to follow through. It's hard at first, I know. I saw Joan at Skylight Colours 10 years ago. They call my colouring Dark Chocolate Winter. Wow, I love your swatch book, the vinyl is a good idea. Look at that, you got 82 colours and I got 42, and they seem close but they're not.  I hear you about the Mom thing. Mine, even at 50, she could wear jeans with rhinestone studs on the back pockets. She was always putting me in neon colours. Shopping for summer clothes was the absolute worst. I dreaded it for years. Loved Back to School though. I finally get it."
My other issue is one of taste, where right and wrong don't exist. I have to assume that all analysts look for the same changes in the face, but some may prioritize differently because of their training (which I don't understand, jaundiced and shadowed never look good, do they?, guess I need to take their training) and some may just plain think certain things look good that I wouldn't. The photos that many analysis systems suggest are attractive are those where I see these women almost at their worst. My eye doesn't see a blonde Victoria Beckham as the most beautiful the woman could be. To look at, all I feel is uncomfortable and wondering what she spends on this. And these are retouched magazine photos! How do real women stand a chance?


Victoria Beckham Pictures
Think about this: Which Victoria gives you get a feeling of oneness?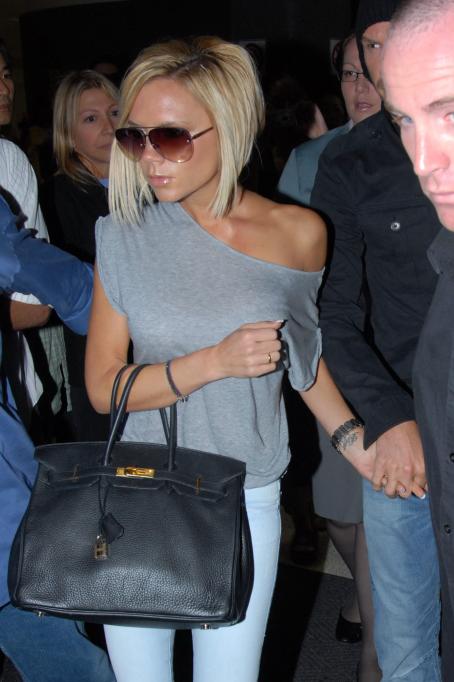 David Beckham and Victoria Beckham Pictures
If you say "Wait a minute, I think she's an awesome blonde. It's fun to change things up.", that's quite fine.  Many analysts would work with you to enjoy hair and cosmetic colours that are distant from your inborn ones. Totally OK.
Me when I still believed that hair should be lightened as we age and that blonde flatters everyone:
A later me, hopefully with hair that looks more fluent and flattering with my truths. Not my best, but it feels closer to real&right.

Ask yourself: Which woman is closer to her center?
I believe that finding and holding one's center is an essential practice when we're tempted by wrong destinations and straying feels so easy. With a solid center, our roots might feel a little tug when the wind blows, but we won't keep changing our position. We can sense that grounding in others, and they in us, based largely in how we look.
As you know from my book, or maybe from looking at your friends, when we look processed to a place too far from how we were meant to look or could possibly look naturally, I don't see or feel beauty. That's a woman who has taken her own melody so far out of tune that the parts don't fit together anymore. What feels good and strong to look at and be around is unity.
If you didn't read the quote in the lower L of the middle Katie photo, be sure to do so.
December 15, 2011 by Christine Scaman · 12 Comments
Excellent question #4:  Are there people who are really best in only some of their colors and for whom other colors in the palette are a compromise?
Short answer: No, there are no such people. I would say you are best in all 60 colours of your Season's colour palette, your personal colour analysis swatches, though many women will only partially agree.
From the analyst's position, what I care about is that no colour brings out the imperfections that we worked for 2 hours to eliminate. In that context, all 60 colours do work. Many others might too. From the question above then, it depends on your definition of "really best". Mine is the youngest, most flawless, and evenly coloured skin tone possible. Your personal issues with powder pink or baby blue are not foremost in my head as long as I have you in your best pink and blue.
No doubt, women have preferences in their palette. Some will just never see themselves in yellow, especially True Winter and Soft Summer. It may take a woman 10 years to overcome being a green-hater. When we conclude the draping, there are 15 beautiful Final Drapes (not the test drapes) that we look at to begin exposing the client to more of their most beautiful colours. She will always love some and not love others. Few will ever own an item in every colour in their swatch book.
She will always look better in some when we see her colours the second time wearing her perfect makeup colours and the hair down.  And she'll look worse in some because wrong hair colour is detracting from how beautiful and balanced she could look, but it's important for her to see that. As awful as the gray cap is, it's a real moment in personal growth when you see yourself looking better in it than in your present hair colour. This is when you truly get it.
You have no worries here. Having something to work towards is empowering in itself. By that stage of the session, you will find your mind supplying you with the colour your hair should be or the colour that will perfect the skin. It's a brand new voice for everyone, nudging you to make the right change. What the colour should be will appear in your head as soon as you stop trying to be the boss of yourself. It's a very polite voice. It won't interrupt the traffic flow in your head till you hold up the STOP sign.
It's also in how you wear your colours. A Dark Winter in a big block of light colour won't look quite right. She needs darkness to balance it with the larger proportion of dark colour in her and set up the contrast that every Winter needs. If her complexion is very dark, that block of light will work better because the contrast will already be in place.
Many Soft Summers don't feel right in some of their lightest drapes. Flip one or two of the medium and dark colours over her shoulder at the same time and the picture clicks. Soft Summer is the queen of the sophisticated colour combinations, where sophisticated can mean "to become less simple and straightforward through experience or education" and "to develop into a more complex form". Soft Summer is very much about layers of meaning, intention, and nuance, in their thoughts as in their colours. When other Seasons combine colour, they drive up the energy. Soft Summer colours are so gentle that they can be combined and still keep the picture elegant and so refined. For me, this Season's magic isn't fully apparent until its colours are combined. I'd say the same about Soft Autumn. They're not so much speak-for-themselves colours, like True Autumn and True Spring. They seem to support one another with a synergy other Seasons don't achieve as well, or at least, as graciously.
Many Bright Season persons need time to adjust to the colour brightness and energy if they had no inkling of the outcome. The analyst's job throughout is to keep them focusing on their face, not the drapes. It's easy to get scared off if you've been dressing like your friends or if your cosmetics salesperson thinks "She'd look unbelievable in this red but there's no way she'll try it, let alone buy it."
True and Dark Autumn usually love all their colours. If they arrived wearing blonde hair and black whatever, they recognize there's a little work to do but they don't shy away. They are job-oriented anyhow and now have their better alternatives. The next time you see them, they're glorious.
Light Summer can be surprised, having lived as a Soft Autumn with warm golden hair for 20 years. Since it is impossible not to like this palette, the adjustment is easy. They look better in the gray hat and their Final Drapes than they do when the hair is down but the problem is plain to see. They are usually just excited to get going though apprehensive about how to explain to the colourist what needs doing. They go in armed with photos of what they do want and what they don't want.
Light Spring is usually happy too.  Springs are very natural people with lots of spunk and spirit and a good bit of daring. These personalities are not caught up in the complicated inner quests. There is often something very spiritual in their life. Emotion runs close to the surface. I seldom find Springs bury a lot of themselves, much more WYSIWYG. They're hard to repress and anxious to get going. Black's not good? Fine, give me grey then. They'll be sending me links to gorgeous products they unearthed within about 2 weeks of their PCA.
August 27, 2010 by Christine Scaman · 2 Comments
Today, we're doing things a bit back to front and visiting my other website, A Greener Tea.
I did a very fun talk for our local Red Hat Society. From the speaker's perspective, this is a uniquely beautiful experience. Everyone wears a red hat, often marvelously decorated with liberal use of a glue gun, and purple clothes. It's brilliant to behold.
Some look out at the world and see the hand of God. I see color. It connects me to everything else somehow. In the article linked here, called "Personal Color Analysis and the Law Of Attraction", it strikes me that in knowing and fully accepting ourselves, we find the peace and beauty we all carry inside. LoA and PCA are both about knowing that so-elusive truth about ourselves. Until we see how we sabotage our own happiness, calm, and success, and we all do it oh, so well, we can only attain a very weak version of each of those.
March 27, 2010 by Christine Scaman · 1 Comment
This video will show you some frame choices for a few of the Autumn and Winters.
There are 12 Seasons in Personal Colour Analysis. Those I missed will be featured in an upcoming video on Sunglasses.
You would never decorate your house by adding whatever strikes your eye at the Home Dec store. It would look and feel like living in a flea market. No calm could be found, and it looks cheap and a tad squirelly.
Like the difference between a stereo system using parts from 5 different companies, or one where every module repeats the others.
A kitchen with 7 very different appliance finishes, or one where the counters and appliances all coordinate.
A house where every room has different flooring. It feels uncomfortable and looks slightly deranged to anyone viewing it.
You see what I mean. You feel what I mean.
Walk into a house where every colour and item was chosen to work with all the others, and you stop in your tracks. A whole different energy. Like on Colin and Justin's Home Heist, when the people walk back into their house.
For the same reason, when you decorate yourself, the effect is so much more arresting when the elements all interlock with one another, and respect the framework of the house itself.
Once you dovetail your best personal colour palette with how you use it, you will look better than your friends. This is YOU, empowered.
January 26, 2010 by Christine Scaman · 1 Comment
Short answer: you may have to.
So remember, when you get your Personal Colour Analysis, be sure to know if you fall on the cool or warm side of the Season. That means : when we're finally down to testing between your last 2 Seasons, are we testing your #1 BEST Season against its warmer neighbor, or against the cooler one? Perhaps THE most exciting part of the analysis. Everybody tingles at this point.
In Wrong Colours Away From the Face, I said that I don't buy into wearing colours that are not in your #1 BEST Season, unless people will only see you sitting at a desk.
To present a unified whole, you can't have 1 big block that's way off. The colours want to connect together to create a force, but they can't if one is flowing against the current.
How you combine the colours of your personal colour palette depends on the energy of your Season. The colours themselves should all work together because they are all the same in 3 respects – how Light/Dark, Warm/Cool, and Clear/Soft they are.
If you've been reading here, you already know what I mean by that. For anyone new, let me explain. Any colour is described by where it sits on those 3 scales, its Light/Dark , its Warm/Cool, and its Clear/Soft  positions. The colour might be one the blues, reds, purples, etc. in your body, or in the world outside you.
Colour Analysis finds those precise colours in your body and replicates their precise position on those 3 scales. We then give them to you in a so-brilliant  Colour Analysis Swatch book. They're called YOUR colours for 2 reasons : A. They're the colours to shop for. And B. They literally are YOUR colours, in your own body.
Let's look at Dark and True Autumn colours. Neighbor seasons. Some people straddle between the 2. But the MOST important aspect of Dark Autumn's colours is their darkness. True Autumn's MOST important feature is the warmth.  Any 2 neighbor Seasons do NOT share the MOST important dimension in their colours. You screw up the whole accord by throwing in another dimension.
You will see clearly and easily during your Personal Colour Analysis how far behind your perfect season the runner up is, even when you border closely. Some shades may be permissible, but none will be as good as any in the perfect one. So, in our Season example above, the Dark Autumn may look pretty good in True Autumn's darker shades, because darkness in general is forgiving. It still won't look like magic.
When the off-colour is worn on the bottom half, away from the face, it STILL disrupts the harmony of the whole body presentation. When the off-colour is way off, the flow of the appearance is distorted in favor of the more dominant colour. That's why Light people gain 15 lbs on the bottom half in black pants.
Of course, your skin tone perfection will suffer less when the off-colour is far way. Still, the viewer will perceive disagreement.
I know it's hard to find good colours. Winters can't find saturated colours. Summers and Lights can't find professional clothes. I know the fashion industry and cosmetics colour offerings are disorganized and incomplete. They are desperately unevenly weighted. As you learn to excel at colour decisions, you'll buy your clothes when you find them, rather than by Season. I was looking at Ann Taylor's website recently. Soft Autumn will do very well. True Summer, head over to Banana Republic. The 3 Winters, wear what you have (unless you need something black or charcoal, always available).
It helps to know whether you're on the cool on warm side of your Season (your PCA will tell you) so that you know how to err. If you can't find your perfect red, you'll know whether to allow cooler or warmer shades. In a perfect world, the stores would be colour-coded, but IRL, their palettes are far more restricted. They might bring in 4 of the same style shirt, but not 8. They do NOT want you knowing anything about what suits you. They want that merchandise out the door, preferably the day it came in. You may have to be close sometimes, but you'll learn how to do that too. We'll talk about it a lot when we meet.
It takes months to learn to match colours precisely, even with your Book. Since we ultimately understand colour by visual comparison, not by me or anyone else talking about it, it helps to gather several similarly coloured items in the store and compare those to your Book. You'll be better able to tell if the match is perfect, and if it isn't, then how it differs. Is it browner? duller? darker?
It takes a month or 2 to start to enjoy the empowerment when you shop. It gets stronger and stronger as you bypass trends and disregard advice you know to be wrong. And both are everywhere.
I so understand the frustration in the beginning of feeling like nothing is right and wondering when it ever will be. But even at the start, you are better than you used to be. Then, the pieces start coming together, and your good decisions far outweigh the bad. Your eyes will get better and better at recognizing it. That will FEEL like magic.
December 11, 2009 by Christine Scaman · 16 Comments
Emily has passed the milestones of her first 20 years. The next 20 years will involve marriage, career, and family, often all at once. It's in these years that women have the least amount of time to spend on themselves, both inside and out. The demands can be overwhelming and once we emerge on the other side, many of us still look like the students we were when we last bought age-appropriate makeup.
Like so many women, in every age group, Emily doesn't wear makeup. It's easy to understand. Very few women can accurately choose what cosmetic colours suit them best. Many have tried but the result didn't speak for them, so they felt like impersonators; or the sales pressure was too intense, and the upsells too mind-boggling, to honestly express uncertainty. We've all seen, or been, the woman at the makeup counter looking completely overdone. You can FEEL her thinking "Get me home before someone sees me."
Emily would like to know what clothes look best and some help choosing makeup that doesn't make her feel painted.  She has the sense and good taste to want to be noticed for the right reasons.
When the colour is wrong, you can never achieve the magic, no matter how lightly or heavily you apply it. When you start hearing "Just apply a thin layer and blot it to a stain", forget it. If you need all those shenanigans, the colour is wrong and besides, it won't last 10 minutes. We all know what makeup- sitting-on-top-of-skin looks like. When the colour melds with the skin, you can apply quite a bit before it starts looking fake.
Put a light, wishy-washy colour on a True Winter and unattractive things happen. Their eyes are dull, almost empty. The person so dominates the colour with their inherent colour intensity, that all you see is a face that appears ill. The skin is dull and shadowed. What happens to the skin happens to the whites of the eyes. As they yellow or grey, the crispness of the eye colour is terribly diluted. It makes you FEEL sad to look at that face.
Emily's colouring is so strong that she wore many of the Bright Winter drapes well, the most brilliant shock colour there is. Bright Winter requires a little heat in the skin, which Em doesn't have. As a result, the Bright Winter drapes drained the colour from her face and turned her skin grayish, like the walls of the room.
Though I've often said eye colour isn't relevant to Season, I want to clarify that. Any Season can have any eye colour and that remains a fact. But just as the drapes are looking to make a connection with the skin, so are they searching for the like colours in the eyes. They are astonishingly and precisely coloured to  A. force a reaction in the skin, and B. to detect an exact colour match in the person's skin. When the association is made, it's electrifying. Em has navy blue in her eye. Watch it come out when like colours find one another.
Lessons
1. If you're not used to lipstick, use sheer colours but stay true to your swatches. The blue-eyed winter with a soft feeling about her may do better in soft fuchsia than red, but too much colour would be outside Em's comfort zone. We used Cover Girl Amazemint in 615 (Cozy Plum) and it's lovely.
2. Even young people should use shimmer makeup very  carefully, if at all. Even on a young True Winter, it makes Emily's upper eyelid too prominent. Frost is attention-getting.  It says "Lookit me! Lookit me!". Classy makeup doesn't do that. It's your supporting player but it is not YOU. Let your makeup be a diffusion of your own colours floating over your face, but let people look at your eyes because they are the shine in your face.
3. Here is an example of Winter who might deepen her hair to match the brows, but always remaining true to the base shade. Nature will never colour you wrong. Her hair is the right colour but Emily could enhance the dark brows/milk skin effect more by deepening her own shade a touch. It will look real because the brows are dark, but more dramatic (not necessarily better, just a stronger visual effect).
4. This is also a place to think about how bad it looks if a Winter were to lighten her hair. The dark brows become more prominent, and look severe. Severe=aging.
For any Season, even if you don't do much with your brows, there will be more attention on your eyes than ever before. Finding a stylist who can remove stray hairs without altering the shape to look like Pamela Anderson is good.
5. As a Dark Winter, my eyeliner is browner and lighter (MAC Grey Utility). Em will wear a crisper darker grey (Graphiti).  I don't believe anyone of lighter complexion than Frieda Pinto can wear black eyeliner, certainly not in the daytime. True Winter's grey consists of black and white. It's a pure, true grey.
6. You all know I think blue/green/purple on a face that can be seen as a color is a cartoon, right? Don't ever wear it to a job interview, and only to work if you are an artist of some sort. Estee Lauder Black Plum and Merle Norman Sapphire are examples of colour that doesn't look like colour. They are less hard than black and the viewer doesn't strongly perceive purple or blue.
When she saw her pictures, she didn't recognize herself.
It takes a certain courage to step up to a personal colour analysis. Like having your fortune told, as empowering as it is, you may hear some things you're not ready for. I've been told that I read palms. What I really read is potential.   To see yourself as you never have, both inside and out, takes endurance. It also brings the responsibility of answering the question "What are you going to do with it?"
Em will travel her own colour journey. It won't look like mine or yours or anyone else's. Some of it may not gel for years. Doesn't matter. She's got a lifetime to refine it. She'll feel confident and beautiful wearing makeup and know that people see the real Emily. It takes more time to convince yourself of all that it can be, and how powerful the final effect is, when every element meshes.
Once you get to the makeup counter and are told that you don't really need to follow your personal colour swatches, you really have to dig deep and find some fortitude. Why would you NOT use them? Why would the sales assistant NOT use them? If they've never had a PCA and watched the process, they don't understand why you're holding the book you have, or what the other Books look like. They're tremendously good at what they do, but colour analyzed skin tone perfection is a key that can only be turned one way.
You have become empowered to know things about your skin and colouring that they simply can't know. But YOU know. YOU saw it. This is one situation where close enough is NOT good enough.
———–
Use of Images
The images contained in this article are of private individuals, not celebrities. I consider the permission for me to use them as a privilege. It is my intention to protect these women's privacy and generosity. If you use any of the photos without permission, I will seek legal counsel. I do not want to have to reduce the beauty and detail of the photographs with watermarks.
This is a learning site. Please do use my words with credit back to the web page you copied and pasted them from. If you mix up my meaning and get the message wrong, feel free to omit any reference back to me.
———-
November 4, 2009 by Christine Scaman · 7 Comments
Pam is a real woman who lives in the real world. Like the majority of women, she's gorgeous and doesn't know it. She doesn't have time to dwell on it anyhow. She has a family and a job. She hasn't been in school for 7 years but it's been hard to find time and money to spend fussing about her looks since then. Pam has become a confident, interesting woman. She doesn't want to look like a student anymore.
True and Neutral Seasons
A PCA (personal colour analysis) session devotes a fair bit of effort to sorting out whether the person is one of the 4 True Seasons (True Spring, Summer, Autumn, Winter). We knew right from the start that Spring was going to be the worst of the 4, and that probably included any of Spring's blends. There were heavy brown shadows under her eyes and her skin was yellow, with too much redness in the nose.
Summer was manageable but Winter was better. Autumn and Winter were about the same. The intensity of her eye colour was dramatically enhanced in the Autumn drapes but her skin was unevenly yellow.
The Red Drapes determined that Pam is neither a purely cool season (Winter), or purely warm (Autumn). In the neutral drapes, we began to see how remarkable Pam could look. I LOVE this part, because one of these red drapes is going to so click that I'll take one look and think "oh, boy, this is going to be amazing".
When we like the skin effects of one season but the eye effects of another, the skin wins. This endeavor is always about creating the most perfectly illuminated skin, cleared of yellow, ash, ruddiness, shadows, or blemishes. Pam is very clearly a Dark Winter.
The photographs show calm, evenly coloured skin. Yes, Pam has skin to be envied. But Pam's also a Mom with 2 young kids. She doesn't sleep well every night. Still, in her perfect colours, you can see the luminous, flawless, poreless, Snow White skin, the white teeth, and the crisp whiteness of the white of the eye.
Pam's colour memo to the world
You know that I'm all about how colour FEELS. We react to it because of how looking at it makes us FEEL.
Look at the expression in her eyes. She FEELS comfortable. These are the colours that she recognizes BECAUSE they live inside her already. Pam is experiencing what it's like when colour speaks for you. It's telling the world who she really is and it feels familiar, like a truth you've always known but have never heard spoken before.
She is easing into her Winterness. Winter is not an informal, casual, or scruffy season. The individual's energy is tailored, simple, and elegant. She will completely dominate overly relaxed clothes. To the viewer, that would FEEL like "hard on the eyes" because of the continuous conflict with Pam's own energy. This season is not frilly or fussy; if anything, it borrows a little of Autumn's masculinity and adds a faint menswear touch.
In Winter's appearance,  there is no movement, playfulness, or softness. You can see why these colouring schemes were named after the seasons. Outfits in a single dark colour convey the dark and serious look. Details are minimal or absent. When present, they are simple and expensive. Dark-light contrast should be extreme. One colour garments that repeat the hair colour are truly majestic. Nobody can compete with the power of this look on Dark Winter's energy.
These colours allow her to look as she is. Pam is calm, a little remote, a little shy, but now, she is aware of her beauty. She is a little formal. You won't know everything about Pam in the first hour. This is very typical of the Winter character. Add a little Spring to Winter, and you up the emotion. Add a little Autumn, and you increase the determination. Pam does not back down.
She looks a little detached. She looks aristocratic. Pam won't carry off a beach blonde look. She'll look odd in exotic prints and fabrics. She isn't made for lavender and lace. That would look almost crazy, like putting a True Summer (say, Bo Derek) in a man's suit and plaid shirt. So, instead of jeans and hoodies, Pam is empowered to know what colours will intensify what is special and distinctive about being Pam.
Dark Winter makeup and hair
Pam usually wears no makeup. It feels too fake, too dark, too conspicuous. That is not who Pam is and it feels clownish. In these pictures, she has a dab of concealer blended with moisturizer under her eye. She is wearing a fair bit of blush to add some life and shape to the face. Eyeshadow  (medium-dark cool gray-brown)and eyeliner (black-brown) are minimal. The final touch is a plum-brown lipstick, covered with a Caramel gloss to tone it down so she won't feel too obviously made-up. This is beyond movie star skin but it looks natural. It took 5 minutes, 5 products, and it looks effortless and real and natural.
Pam's hair is a dark ash brown. What would highlights do? The same thing they do to any Winter. They look terrible. The whole dark force is disrupted with light stripes. The same thing happens when Winter wears light, frosted lipstick. They look flat, chalky, weakened.
Does Dark Winter have a lighter side? Oh, yes. It's just a little contained.
Your colour feeling
The trick is to find what you CAN do, what is consistent with who you are inside. Why is that so hard to know? I wish I knew. Why is it so hard to know your deepest obstacles, those you put in your own way, since that's where most of them come from anyway? I don't know that either.
After a lifetime of playing it safe, you have to ease into saying so much about yourself. As Marianne Williamson said "It is not our darkness we are afraid of. It is our light." Many people are wearing someone else's clothes and spending a lot of time and money to send out signals that detract from who they really are. Many others are trying to send out no message and render themselves invisible, so they live in comfort clothes, but that's an equally detracting memo about who you could be. In the eye of the beholder, both say "doesn't feel good, look away".
Colour is deeply imprinted on human beings. With an understanding of your personal palette, you develop an understanding of how it feels FEELS to be you.
———-
Use of Images
The images contained in this article are of private individuals, not celebrities. I consider the permission for me to use them as a privilege. It is my intention to protect these women's privacy and generosity. If you use any of the photos without permission, I will seek legal counsel. I do not want to have to reduce the beauty and detail of the photographs with watermarks.
This is a learning site. Please do use my words with credit back to the web page you copied and pasted them from. If you mix up my meaning and get the message wrong, feel free to omit any reference back to me.
———-
September 26, 2009 by Christine Scaman · 6 Comments
Undue caution
When I was looking for a room in a spa or salon to do PCAs, I spoke with 9 different businesses. 8 were run by women, 1 by a man. Know how many were even curious? Know how many said "That sounds interesting." or "I remember it from the 80s and it didn't work. Has it changed?", let alone saw an opportunity to expand their own business? One. 1. That's it. (Proud to say she was a woman.)
I encounter so much more resistance to the concept of colour analysis from the women who sell to other women than I do from anyone else. More than from men who sell to women. More than from the clients themselves.
I understand caution about new ideas. I have it myself.
I understand that retailers have negative memories from the old days. Women would come in with those annoying swatches. If the item didn't match the swatch, they wouldn't buy, and neither would their friend. What a headache. When it finally died down, they celebrated.
Clearing the air
There is one source of doubt that I'd like to dispel.
Colour Analysts are not your competition. We are not selling clothing or hair colour. We are selling knowledge that can't be acquired any other way – but information that is invaluable to you as you advise your client.
Your GP is not competing with your dermatologist. They are helping you in different ways.
Nobody is saying that you are not good with colour. You are as good as anyone can be without a true analysis of the client. Nobody can see anybody's undertones. The more people you analyze, the clearer that becomes. It's not a flaw or a fault. Nobody is capable of it by just looking at someone.
Elementary marketing
It is not an accident that the genius marketers at Macy's employ colour analysts. It is a new spin on the very prestigious and successful concept of personal shopping. They're not firing them for lack of consumer interest or any other reason.
A good marketer sees selling opportunity everywhere. They don't fight a rising tide, they ride it. If your antennae are up, you can turn anything to your business advantage.
Consumers will want you to understand how PCA works. You can't wait it out or pretend it's wrong. Other stores will join in. Your client will shop at those stores because she's happier with every single purchase. She'll go out of town to shop because the big stores will get in on this first.
Just as corporations were finally forced to learn and participate in social media, anyone who dispenses clothes or makeup advice will eventually have to make some room for seasonal colour analysis. In the beginning, the corporations didn't know how to talk to their market, so they stayed silent. They paid a price for that and are still trying to catch up. Is your business so good that you can ignore this marketing occasion? There is barely any investment. What in the world is there to lose?
Use this to your advantage. Step out from the crowd and start a conversation. PCA's can help you help your client. If you empower your client, she will love you. If you save her money, your word will be gospel. If you save her time, she will tell all her friends about you if she hasn't already. She will return again and again and spend money because she is never disappointed.
If we allow our marketing juices to flow, we can help each other. Our clients will be overjoyed.