May 26, 2012 by Christine Scaman · 34 Comments
When Tina first learned she was a True Summer, she encountered the same roadblock that can stump most, probably all, newly identified True Summers. How do I know this colour is Summer, not Winter?
Have a look at previous articles Matching The Swatch Book: Blue and Matching The Swatch Book: Coral.  Both were written to help with that.
Today will be about the True Seasons, but most of it could apply to any of the related Summer – Winter groups, so Light Summer with Bright Winter and Soft Summer with Dark Winter. If you're thinking "How are those related?"
>>Light Summer and Bright Winter both start from a pure cool colour palette, Summer and Winter, respectively. Then they move over one position in the same direction, towards Spring. To look at the colours, the same amount of the same kind of heat gets added to each one.
>>Soft Summer and Dark Winter move from their pure cool True Seasons by adding the same amount of the same kind of heat, that is, Autumn's.
The blue book in the right sidebar, RTYNC, explains this in more detail. It also includes the map below. Like on a colour wheel, relationships exist beside and across.
For the True Summer and Winter, we're working with colours where you cannot see one bit of heat. Not vanilla, watery sun, pale dust, white gold, certainly no beige, no tan, no orange, and yellow under certain conditions (coolness). True Summer's is skim milk white. Its light colours seem more colorful than Winter's because Winter's lights have so little pigment, to create the 'icy' look. Summer's lights are pastels, by definition meaning they contain more colour pigment and are softened by being grayed. There is no such thing as an icy pastel that I know.
True Summer has a pretty big range of darkness. It would not reach to black or white but can get quite close in ghost and dark grey.
Tina's Sportswear for True Summer
Tina has a fine understanding of True Summer. My favorite feeling about this Season is its freshness. If I start getting a sensation of weight or thickness, my own interpretation of the Season doesn't jive. I love the green and pink hoodies bottom right, the blue bag and sleeveless top, the pink shorts, the long dress. All really good.
The turquoise racerback tank might be a little bright (saturated) and a good example of what adding just a little Spring yellow does – so, I'd put that guy in Light Summer. But does it bother my eye in this collection? Not at all.
When you think about adding water to colour, you appreciate that it can become diluted and less saturated without losing its clean feeling? True Summer is like that. There isn't so much gray that it looks like it got put in the dark wash. It does have some bluish-greying, but not enough to take the colour down very far. So for me, the pink hoodie top L, the Nike logo Tshirt and sweatshirt, the grey-mauve shirt and jeans all feel heavy – could that be fabric, pattern, texture, and shape? Sure, they all influence how we perceive colour. If your opinion is different from mine, that doesn't mean it's wrong.
Tina broke down her early trouble spots into four great questions. She also took the bigger and better learning step of making her own Polyvores that we can talk about. I want her know how much we appreciate her willingness to just listen to any comment, agree or disagree. Easy to say, not easy to do.
1) In a previous color system, I was analyzed a Winter (this happened to me!) How will I know if a color is just too much for me to handle?
Others will see the colour before they see you. And their eye will keep being dragged back to the colour. At first, you or your shopping friends may not be able to know they're seeing this. In the mirror, consider if your head really matches your body.  Is one darker, thicker, heavier, blockier than the other or does there seem to be an easy rapport between them, like they belong together? When we look at outfits we often stare at the fit of the clothes and totally ignore the head attached to the top. Many hairstylists are masterful at this. They stand back and look at the hair creation and have blurred out the face in the center.
You may feel overpowered, as if you look smaller or weaker. You may feel tired. If you're used to going about in Winter colours, you've accommodated this and learned to compensate. It won't be something you can feel immediately on the road back.
Look for repeats of the colours of the item in your face, eyes, lips, or hair. This is hard to do and can be very ambiguous, but there are women who can sense this. Makes no difference in the world if you can't.
True Summer's natural colouring, features, and expression tend to have a gentleness. When they greet someone, they put them at ease. Winter colours won't give you the feeling of relaxing.
True Summer can look ok in Winter's light colours. Why not? They're light and cool, that's two things Summer does well with. But the iciness of Winter will positively glare on the Summer, while her face seems grayer (and her teeth too – whatever happens to the skin happens to the teeth and whites of the eyes), like her head is 2 feet back behind her body.
Your face will seem pale or tired, perhaps even bruised under the eyes, what you'd see if you suddenly put on a way too dark wig.
The shadows along the sides of the nose look darker in Winter colour, especially the dark colours. That shadow extends up to the inner corner of the eye. Darkness, as you know, recedes, making the inner corner of the eye seem collapsed backward. I believe that our eyes are the focal point of our entire being. Nothing should ever interfere with the other person's ability to reach them.
When you shop, bring or wear a colour that you know works, a scarf maybe. If there's a colour you're not sure of, float your hand over the good colour about an inch. Relax your eyes and just let them take in the youth of the hand, the texture of the skin, the prominence of veins, the redness or wrinkles over knuckles. Hold the gaze for 10 or 15 seconds. Now switch your hand over the fabric you're testing. Don't over-analyze. Just ask yourself "step forward or step back?". Which is the younger, fresher, cleaner, plumper, prettier shaped hand?
Black is a comparison thing just like other colours are, but when you're seeing true black you know it, as "OK, now this is definitely black." If you're sure, it's Winter. If you're not sure, it could be Summer's darkest gray. Summer doesn't go quite that dark really, but if you need to buy pants, a little too dark but not black would get you through the day.
In Nature, even the darkest shadow doesn't go to black in the daytime. (For those who have RTYNC, Summer is like noontime light, right?) It's because of the amount of light, for one thing. True Summer landscapes are always backlit a bit from the sky overhead, despite the sun being hidden behind clouds, or from light filtering in from around or behind the image itself.
Also, maybe shadows don't go to black because so many colours go into making a shadow. If you held a card painted with a pitch black X inside a True Summer grey shadow, you could still make out the X.
By fanning out your True Summer swatches and moving a pure black shape over it, your eye will pick out why black doesn't fit. Eyes seem very good at picking out even close saturation differences, which is why black mascara never quite belongs on any Summer face. The viewer sees the eyelashes and then the face, perhaps the goal for believers in magazine ads.
Tina's Evening Wear for True Summer
This is beautiful. There are light, medium, and dark options. In the purse top R, I usually look for a pink, blue, or mauve tone in True Summer grey, but this one would work fine. The delicate crafstmanship and attention to detail is Summer all over. The long purple in the center is good too, not over-saturated when you enlarge it (because it has a trace of heather, Winter would have none). The white dress on the model lower R, I'm not sure. Polyvore often loses colour and detail on light items. As it is, I think of Winter white because the background is True Summer and see how the dress glares? Couldn't find a better example of what Winter white does on a True Summer face. The green feathery dress in the center gives me Soft Summer feelings of over-grayness, but again, it's a fabric issue too.
2) What is the difference between too saturated and not saturated enough?
I'll let Tina's Polyvore below show you that. Colour is all about comparison and this is so well done. Winter colours look like straight pigment. You couldn't talk yourself into dustiness if you tried.  Ask yourself "Do I feel like a sheet of this colour could stop me from moving through it or even push me backwards?"
"Not saturated enough" is a really good point. Where do you tip into Soft Summer? I can't explain the saturation cut-off verbally. You need your Colour Book swatches.  More useful for me is that colour gets warmer in Soft Summer, not just softer. You can see the slightest overlay of taupe over all the colours, even the blues and greens. True Summer may look coolly grayed but you don't sense heat. That heat feels heavy, like chocolate milk compared to skim.
Remember that it's not just a saturation question between True Summer and True Winter.  Winter contains a lot more red.
Tina's True Summer vs. True Winter
3) Even when I was diagnosed a Winter before, I loved the colors, but whenever I saw a whole garment those shades, I always shied away from it and picked something "quieter".  Am I right to always trust that instinct?
The vet in me finds the word 'diagnosed' very original in this context, like something you wouldn't want to have. Is this the subconscious at work?
About trusting the instinct: Yes! Understanding that True Summer is too often thought of as lavender and Wedgewood blue and not much else.  True Summer is never in your face, even its darker versions.
Putting more than two Winter colours together could look like colour shock. Putting True Summer colours together looks lovely, like a place you'd want to stay awhile.
And understanding that too much quieter could take you into Soft Summer's cooler palette, if you see greyness as quiet. I do, and I also see it as thicker. True Summer isn't syrupy. It's Jello. It's silky cool, like perfume evaporating on your skin, like walking into air conditioning when it's hot out, like feeling cool lemonade slip down your throat after an hour of gardening. It's comfortable coolness.
Winter is much more serious. It's more likely to interrupt. Summer colours will listen to you and offer caring advice. Winter may have learned the patience for that, key word, learned, but they still sidestep the emotion. A heart-to-heart on the porch swing don't fit into its colour scene.
If you're wearing your Summer items to shop and you try on something Winter, the rest of your outfit will seem drab and dishwater, when it looked elegant and perfect before. When two things don't belong together, they drive each other further apart. Which is why I can't see why we're told to wear eyeglasses that oppose our face shape to "balance" us.  Reese in John Lennon glasses? IDK. What was so bad about our face shape to start with that we need to cancel it out?
4) Some of the makeup selections for True Summer feel and look "dull" to me. What is the best way to overcome this?
Perception – easily among my top favorite topics! I feel the floodgates letting go.
As with all things colour, everything is comparative. Dull next to what? Next to the parrot colours at the counter? Next to Winter colours? Well, you know, so does a True Summer person look softer (no way I'm saying dull, no human being ever looks dull, every colour story is equally spellbinding – do you find Winter people more interesting beings? NO. Nor are their looks.) On a Winter colouring, that makeup would look uninspired. But ON THE SUMMER FACE, they look as balanced and natural and healthy and vital and vibrant as the Winter woman's do on her. Trust me. I never lie, whatever the cost.
There are too many negative colour associations in the world. Black is slimmer. Dark is stronger. Bold is more passionate. Vibrant is healthier. We even believe some of this. Well, they're not. Colour doesn't judge bold or indecisive. It just is. Clouds are not less beautiful than sunsets. They're just clouds and sunsets and that's how we appreciate them. We don't walk in a forest saying "This tree is more beautiful than that tree. We don't say "A tree in summer is more beautiful because the swaying of the leaves look so inviting compared to the simple shape of the wintertime tree." They're all special for the way they grew, the way they are, just because they're there. People too. Colours too.
Consider it from the opposite side. True Winter's makeup will look inflated, even bigger and even darker and even redder, on a Summer face. Parrot feathers on a dove does not look good. It's not ugly. There is no ugly. What it looks like is forever separate. They can't mesh.  By putting them together, both the dove and the feathers are reduced. They can't penetrate each other and become one and the same, that sensation women experience so deeply when they see themselves in their most beautiful colours, as if releasing the drape at that moment would lose contact with some long-lost part of themselves they've only just found.
By adding to yourself more of what you already are, it's like using you to support you even more. That's where real strength comes from, right? It is not out there somewhere. Only you elevate and strengthen the very uniqueness and specialness of you.
Tina's Personal Picks for True Summer
I have nothing to say that could add to this. All I mean by "a place you'd want to stay awhile".
Colours, Kibbes, and Types
Many of us have been exposed to various colour and style paradigms by now, Kibbe, Carol Tuttle, Jennifer Butler, and so many other artists and thinkers. We look for one colour or image system to have all the answers, but not one of them is all right or all wrong. Each one lets us gather a few new clues our identity. Types, Seasons, Essences, unless the system has 7 billion of them, not every word in any of them will fit any one person. Lines, colours, conscience, thoughts, shapes all feed into our final what? Voltage? Altitude? Energy is a good word but overuse had blunted its meaning. We are energetic beings, each a unique force field emitting one synchronous wavelength, like walking radio towers, receivers and transmitters. And resistors and capacitors, come to think of it. We are beginning to understand what this means and we're drawn to it like bugs to light.
The Types come from Carol's Dressing Your Truth system. I love this woman, what she stands for, her face and energy profiling. I'm still waiting to find the video called "What if My Facial Design and Energy Type Don't Match" – not that I've seen that IRL (unless a person is confusing their primary and secondary type), but then I'm a believer that our lines, colours, and personality/character/movement are related, a lot more than I'd say in most company. If I taught colour analysis, I wouldn't even bring it up. Carol's DYT has 4 Types.
I may be severing any friendship we might ever have by saying that they correlate fairly well with the broad 4 Season associations that Suzanne Caygill saw, so Types 1, 2, 3, and 4 would remind you a lot of Spring, Summer, Autumn, Winter. The difference is that any colouring can exist within any of the energy Types. Do I agree? No. We moved past 4 palettes because they didn't represent most people's colouring faithfully enough. Besides, a Dark Autumn with blonde highlights is not dressing her truth, no matter her Type. Nor is a Type 4 True Spring in wide horizontal B&W stripes. Whatever (probably a keyword for my Type 4). I can get over it for the bigger payoff.
Kate Middleton is a Soft Summer Type 4. Seems paradoxical. Does that mean that either her Season or her Dressing Your Truth Type is wrong? Not at all. It means we don't yet have all the answers about colour, line, and character in humans. Kate still can find new ways of refining herself and adjusting how she wears her palette.  As a Type 4, perhaps within her Soft Summer colours, she is relatively high contrast and would wear straighter lines because they are found in her body and face, the lines into which her colours were painted. We can be too literal in our interpretations of all these systems when none of them excludes any of the others. They all build on some part of our wholeness.
Gwyneth Paltrow is a Type 4 Light or True Summer (probably). Regal, statuesque, still. Blunt sharp haircuts suit her, especially that chin length razor bob she had awhile back. Her solid wall of yellow hair is probably better on her than the randomness of highlights. Very straightened hair works on her because of the sleek, smooth, stylized Type 4 energy. Straight hair could feel forced and stiff on the True Summer Type 2 whose energy is much more sliding, like drifting in a rowboat trailing one hand in the water. All our answers won't be together in one place. Each has pieces for the puzzle. We feel our way into whether they fit.
The best thing about what I do is the privilege of being taught by people the world over who share their questions and answers with me. I am truly and deeply humbled by that honesty and generosity. I love talking to my friend, Darren. He's so sensible and smart, and he has experienced most systems you can name. He can pull together the details and the big picture into real world advice. He said,
What I see is different artists' take on the same subject and from different angles. Everyone has their spin. Personally, I don't have the time or the money to try to include every color in every palette that I have so for the moment I'm sticking with Jennifer Butler's, if not just for the sake of self discipline and to see how creative and far I can stretch myself within those parameters. In the end my goal is that everything will eventually fall away and I will learn to trust my own eyes and my own inner guidance completely. I mean think about it. We both [all] artists in our own right with our own way of seeing the world. [Butler, Kitchener, Taylore Sinclair, Suzanne Caygill, Bernice Kentner, Irenee Riter, ]and on and on… they are just people like anyone else.

So I guess what I'm saying is that these people are great at pointing the way but they can't take the journey for us. We all have to do that ourselves. In the end we have to do what it takes to make ourselves into who we would like to see, lose our own weight, and accept our own limitations, and be OK with it. At some point we have to accept that we know enough to relax and just be. Who wants to spend all their time trying to figure out what to wear so they can go shopping.
I wrote RTYNC, the book pictured on the right side. I get told "I doubt my PCA because my personality is off from what you wrote." Don't do that!!
I get told "Wearing my colours as exotic or tribal feels all wrong on me. Does that mean I'm not Dark Autumn?" NO!!! Trust the analysis. I painted word pictures that feel right to me but they cannot possibly apply to every Dark Autumn, all 7 billion divided by 12 of them.
I see women asking " How can I have dark hair and be Light Summer?" But it's relative. Your hair isn't dark compared to 95% of Winters, it's just darker than many Light Summers. We know our hair colours aren't necessarily in our swatch book. Doesn't mean it's suddenly inconsistent or that your analysis was wrong.
In our truths lie our strengths. What is true about you is what is strong about you. That's why it feels so important to look for it.  In our untruths lie our weaknesses. Which is why looking unnatural, like you could never have happened that way without really interfering with Nature's plan, communicates to me as scattered energy. Real and right looks grounded and therefore strong. If it 's true that allowing ourselves to behave with false words and actions makes us weak, and it is, how does it not follow about our appearance?
So, do dark Summers look good in black? Not to me because black communicates absolutely nothing that is true about them. Not unattractive. You are never ever that. Besides, it will make the rest of your clothes in the colours that actually look beautiful on you suddenly appear old, tired, and sort of defeated, as will the skin tone. And will your dearest friends or salespeople tell you this? No, my sister, they won't. The purpose of a compliment is to make you feel better, not to share truth. Wait 6 months and show them a photo of you in black and you in bluewater grey, they won't pick the black.
Below, a YouTube DYT video on how the 4 Types wear red lipstick. It's a beautiful comparison of these two women, mother and daughter, both embracing their individuality, with a "I'd have you no other way than as you are." connection that you wouldn't find among many adult mothers and daughters – and I bet these two wouldn't have found, had Carol not developed her energy profiling. I believe 100% that every mother should read Discover Your Beauty Profile and It's Just My Nature so her children can live acceptance in their home and know how to live it out in the world. How we should all live, all the time, not just with family.
Also, if you're a Summer, watch more videos with Anne. She dresses beautifully for a Summer, mostly True. See the flower, the crystal in the necklace, the great great base hair colour (this is lighter than many a True Summer, Anne may be a Light, but it has the essential ash tone needed for the skin to bloom and look young). She talks about how Type 2 does dramatic lipstick right. The background would actually be a good lip on True/Soft Summer. See how Anne feels part of it while Carol looks Cut&Pasted in?
Unlearning is harder than learning. There was a time when we didn't hold ourselves up to any standard but our own. And then the fight went out of us, media got too big in our  minds, but we can remember the simplicity of those days. We see it in our children. It's time to go back there.
My Summer friends tell me they want more ooomph, they feel so blended. Tina brought up a great point about yellow in hair. Unless you came by it on your own, not only is it too yellow against your skin, it's too light. The dewy deep pink blush goes out of your cheeks and you live in a NoRightColourLand between True and Light Summer. Once the hair is back to its natural darkness, the makeup intensity can go up to balance that, right to where it should be. Your colours have all the ooomph they should have on your face. In a hairstyle that looks loose and released, you bring your lovely grace to a room with no soldier overtones to mix us up. Fundamental to Carol's teaching is "I can love me enough to be me, and I can love you when you give yourself the same permission."
I'm not always a very good friend. Not good at making calls, making time. Not even a very good wife. My husband and I both married the strong, silent type. True Summers number the highest among my best friends and trusted counselors. There is something in that character that I need, that we all need.  The higher tuning of their heart brings balance to the higher tuning of my head.  They're like the bed of roses I can fall into, finally exhale, and feel safe. Please don't disguise yourselves. We'll still see you but won't understand why you're retracting your gift. You are everything that the word Grace means on Earth, one of the most powerful words in any language.
We communicate so much more by our appearance than our words. What others sense is how synchronous our cumulative energy is.  Call that energy whatever term pleases you, it represents everything about a lifeforce that is more than just a body. We all agree that we can feel something bigger in ourselves and others than the space we take up. We are the size of the space that we have presence and influence in, the meaning of expanded consciousness. The Sci\ART colour analysis is an accurate measuring tool that taps into one of that realms. Your perfect lipstick is only the beginning. Who could feel the door to their best self open and not be speechlessly drawn forward?
May 20, 2012 by Christine Scaman · 12 Comments
You can use lipstick to help you narrow down your Season among the 12, and in some cases, you tap the nail on the head. You would have to use those colours that nobody else could wear as well. You need to stick close to TMIT for each.
As when test drapes are truly useful, they may or may not be colours that you're supposed to love or go out and buy, though you could. They're intended to create a colour reaction to help make a clear either/or choice. You need the extremes. If you're a Light Season, pick a light lipstick colour. On everyone else, it will erase their lips and undefine the face, especially at maturity.
David Kibbe wrote Metamorphosis in the late 80s. It's still brilliant. If you had a salon for women to discover their Image Identity, it would be near impossible to do by trying clothing styles, though it can be amazing how well that works taking photos of yourself in dressing rooms mirrors. In your salon, you'd need too many sizes and styles.
Can it be done with makeup? The makeup guidelines didn't seem different enough in Kibbe's book. Watercolours vs sculpted looked much the same because the face beneath was sculpted or it wasn't. I can't imagine finding your KibbeType with makeup.
Jewelry, now, that could be done. Maybe hats too. Choosing True Winter was a way to keep colour out of it to make the lines more audible. There are a couple of colours used if they shift the perception as pink >> soft, even icy pink. Oh, to be a True Winter. Black and White and you're on the  mountaintop.
Removing colour also adds the stillness quality so beautiful and true to Winter people. I tried to keep a frozen in time quality, since symmetric and smooth are not right on everyone. Even the rough pieces have something sleek or motionless.
On TW, a strand of pearls doesn't match the presence of the person. Just by their natural colouring, this person is edgy looking, however soft their body's lines. Simple pearls need something extra to make the same statement as the person, even a double strand is better.
The Classics
This is True  Winter. Even when its line are soft, it should look hard in density. I love about that SC necklace the way the pearl is 'balanced'. That's such a strong Winter association.
Psychology Section
I'm using this article as a place to say something. Please skip if not into self-discovery conversations.
I read messages and questions from women learning their new Season and feeling more discouraged with themselves than ever.  I am so happy to see that such a community of support and good advice has evolved on so many facebook pages. The free and generous cheering for one another is a most beautiful expression of an abundance mentality.  Women have shared their experience and knowledge without pausing to realize that they are contributing great gifts of service to others. Putting goodness out into the world counts.
The Naturals
Like all forms of growth, you have to give yourself 6 months to learn to use your new colour palette.  Your mind needs time to untangle how it has seen stores for the last 20 years. Practice patience. Think of this like exercise, which works for every single person who stays with it. You will find your best self because everyone else did. It always works. Women who have had a Sci\ART analysis would not go back to how they used to shop and neither will you. Give any doubts about that to the wind before you read another word.
You have to put in the time to get the reward. Like asking someone else to meditate for you, it just won't work that way. You can't miss the journey. The journey is the whole point, there's no final destination. You have to engage it with conscious thought, not skim the surface or expect an automatic lock 'n load. Don't think about the endpoint or wish to be there till it's fairly earned. Focus on moving closer and closer to defining your center. That right there is the entire point. You will get very, very good at your colours. Expect to return a few things – on those days, you'll know even more about yourself. Move towards those moments.
I want you to be happy to be all of you, not just your natural colouring – which I guarantee you is beautiful enough to bring tears to the eyes of anyone who takes the time to really look.
The  Gamines
Broken lines are the deal here. Connect the dots, dashes, seeds, beads. Add in swirls for soft and multi-directional lines for Flamboyant.
We all have these "I hate abcd about myself." conversations, me just as much as anyone. Please don't anyone email me and tell me I'm not sensitive to women's body issues. I've got first hand knowledge of having your most basic survival foundations shaken by anorexia (high school but I can go back there in my head in an instant), of being beat around as a kid (school, not family). I get what humiliation at the hands of others and my own feels like. I fight it every day too.
Thing is, everybody does. Nobody's life is all charmed. When I learned my Season, and when other women do, I noticed that it had a calming effect. The expression in the eyes at the end of the PCA is peaceful. I just figured that was recognition of that which lives in us and letting it have its voice.
Then I learned my Kibbe style. Again, that was calming. There seems a frantic rummaging that goes on, being unable to let it go till the puzzle is solved, followed by a strong, receiving quiet. Again, it doesn't need to be perfect. It needs to be closer  to the real you than where you were.
The Dramatics
Note to self: Soft Anything = smoother and rounder. Also smooth does not  = sleek.
We have seen or been the woman going into stores with her new colour palette and finding nothing, leaving her with an "I'm not this, I'm not that, I'm not anything." type of discouragement. And then joins on the appendix "And besides, I hate my shape." So, to find that allowing, satisfied calm about your shape, I think you have to learn it, just like it works with colours. Doesn't matter if you find the perfect answer or the perfect jacket. It's about starting to ask the questions and getting closer to who you are, sometimes through the Who You Are Not maze. This appears to be calming and empowering to everyone who experiences it.
Saying
"What good are these colours I have? I can't find them in stores. If I see something close, I'm either not sure or the style is off. All I see is the black they said I can't wear. I hate the weight that won't budge, I'm so tired of having big arms I'm always hiding them.

What I feel is really far away from finding a way to communicate with me, like she's actually trying to get away or hide so I can't find her. Who I thought I was, her seat is empty, as if everybody left without telling me and I got left here alone trying to figure this out. I don't even know where to start."
doesn't feel as good as
"It will take time to break away all the hype I now believe about colour and me – and decide what of that I want to keep that does speak to me and for me. I have new knowledge and new tools. I don't have to worry. It's all happening right now in my subconscious, even when I'm asleep. It took time to get how it was and it's going to take time to go back. I'm going to calm down about it. I make a devotion to me to stay in the boat and give myself that time.

Spending more time in stores is just more depressing. What I need is to find the places where I feel good. Maybe that's new makeup instead of clothes. Maybe it's time with women who've lived it and are there just to listen. What the women on facebook notice about me never seems to be my thighs. Should I start thinking that I'm the only one who sees them? They see how I barely need foundation and the shape of my lips. If I learned a bit more about me, would I find more good stuff on my own? It sure would feel better to be paying attention to that."
I'm taking the Dressing Your Truth course now. I love Carol Tuttle's honest, been-there style. I love her basic premise: There is nothing wrong with you. Not one single thing. Any fault lies with the fashion/cosmetic/marketing industry that has trained you with false proof (meaning that if the mannequin's clothes don't suit you, you must have a problem) to believe that you're not perfect. And, since you can't solve a problem till you're mature and accountable enough to own the problem, a little fault lies with all of us women for allowing this to happen. I know it's insidious but we've also been too easy a target. We gobble it up when we should turn the page.
And so again, following the same pattern, I went from the statement "I'm a Type 4, 3 secondary" to recognizing that little jolt of empowered and hopeful. I read what those Types give and take in the world and found them in me. They gave me direction, like knowing where you're supposed to be going, like something definite to move towards, cushioned by all the good things that balance me.  Instead of feeling closed down if your palette doesn't work, consider expanding yourself even more. The colours will fall in your lap when you're thinking about something else.
We've seen the photos at the fashion collections where the  models parade down together at the end – can't recall a better rendition of Clone Planet. Of course, we don't look at their faces. We're supposed stare at the clothes. But we don't live in The Matrix, and who'd want to? Once we allow ourselves to graduate to another level, to be released from the magazines that try to get us to erase our me-ness, we can say
"I am an energy Type 2. That's why I can feel so hurt for myself and for others. It's not weak to try to make others feel better, that makes me stronger. I'm a Light Summer. When people look at me, they see the hope and feel the lift of a rainbow.  So I'm not tough. So I don't wear black. I'd still rather be me, all of me, than anybody else."
You might just feel so good and right in your own skin and everything you buy that you'll have to work a wee bit harder at keeping your humility grounded and your joy contained.
The Romantics
Your truths are where your power is. What is true about you is what is strong about you. By the time you're 35, you're going to need a shovel to get at that. It won't bubble up on its own for most of us. Those brave, intelligent, and very giving women of facebook didn't start that way either. They started by talking the talk, hearing themselves in the stories and advice of others. They taught each other. They have come out on their other side, easily and steadily and continuously walking the walk. You will too. Just join the party. Look for the least contaminated truths you can find inside you when you talk. It's really hard to do, but do it anyhow. Put yourself in a place of learning, only that, and make it good enough. If lovely clothes start finding their way into your life, fine, but make the primary purpose to learn who you are.  Your most beautiful lipstick is waiting for you to do that.
The road to Heaven isn't paved with high achievers, right? It's a one-at-a-time brick road of finding your Self, and never living one moment beneath or beside that again. We have many selves. In our past, they get pulled out like the pages of a book and left behind.  The restlessness you feel will settle when you gather them back where they belong. The Kingdom of Heaven is, has always been, and forever will be, inside. Anything that helps you find what is true and real and authentic about you will bring you closer.
May 7, 2012 by Christine Scaman · 17 Comments
With the introduction of recent 16 Season personal colour analysis systems, this question keeps appearing in my Inbox:
Who's Right?
Are there 12? 16? 44? Google? The ultimate system is the one that places each person in their own Season, since the variations are infinite. For me, a PCA system should be widely available, offer reproducible results (meaning 2 analysts would come up with near-identical colours for the client, regardless of the heading they're given), with swatches that the woman understands visually and rationally so she can see and think her way to buying the best items.
I like having clear-cut divisions in the colour dimensions between each group, which is do-able when the number of groups is lower. The span will include people who seem to look very different in each group, but every colour will be right for every member of the respective groups. The congruity between the colours in the person and what they wear is measured to be very high as long as the drape and swatch colours are scientifically consistent – because the genetics of human skin pigmentation is quite consistent. Could it be whittled down more? Sure. Much as you want.
Even already at 12 Seasons, the colours can be supremely hard to tell apart between related Seasons – at least, they are for me, appreciating that I am neither authority nor expert and never will be. I am a student trying to understand something complex, nothing more. Many have more sensitive colour vision than I have. How do people like me tell each swatch apart when the number of groups gets even higher than 12? I don't. I can't. What happens is that colours get shared between groups, or that's what my eyes register. So in a 28 Season system, a "darker Soft Summer", like Katie Holmes, would presumably move a bit into Winter territory or borrow a few real Winter colours, since her colouring gives the impression of blurring the Summer/Winter line a bit.
Sometimes it works well, sometimes it doesn't – and that's if a shopper can tell the difference between her Season, her Season with a touch of Winter, or her Season actually wearing Winter. Caution is needed. A person of Soft Summer colouring would look overwhelmed by her clothes or tired in the saturation of Winter, either grays or colours, as Katie can in too dark hair and makeup. So it's the job of the analyst and the analysis system to get clients crystal clear on which colours to wear or avoid.
High colour saturation. Looks great, I think.


Katie Holmes Pictures
We know right away the photo below is more real. Her essential dustiness feels right. They had to up-colour her eyes for the picture above to look balanced. Works in the digital world, not the real one.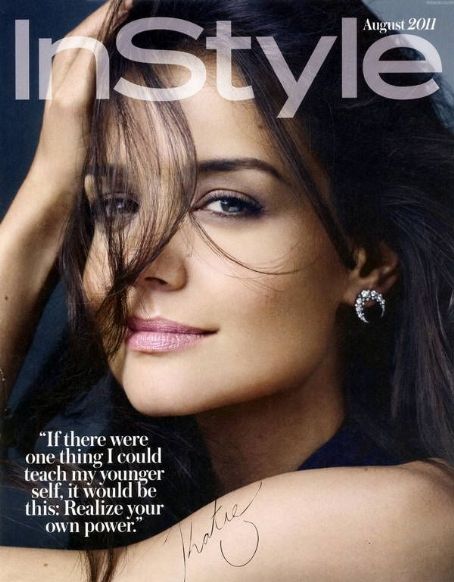 Katie Holmes Pictures
And then there's being clear on which colour goes with which Season. This is muted to be Winter's green, probably through sheerness and texture of fabric, though the black added to the green is Winterish – makes it an interesting choice for a Summer woman with more than usual darkness, but awfully hard to pin down Season. There's too much crossover. She balances it pretty well, though her eyes are fading a bit. Lighter eyeliner and more lip colour could help.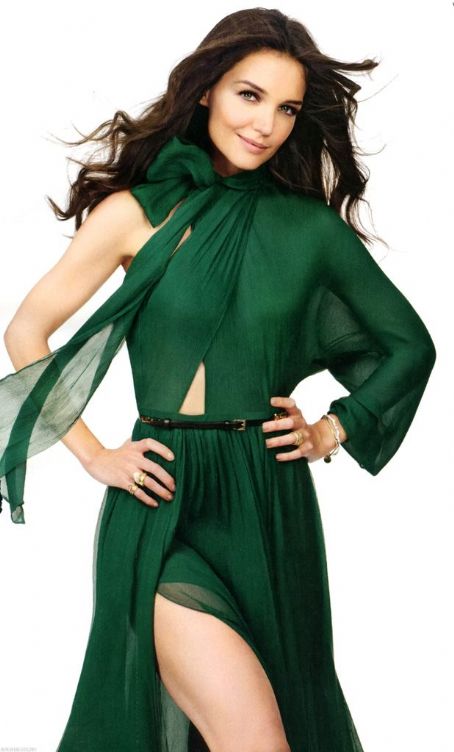 Katie Holmes Pictures
I don't disagree that there are darkness/heat/saturation ranges in each type of colouring group. Of course there are. With fewer Seasons (and carefully calibrated palettes), no colour is a mistake. With movement between Seasons, some could be. A very astute and colour-perceptive Soft Summer knew that even within her highly accurate palette in the photo below (from True Colour Australia), some colours were better on her. She used paint chips (Pittsburgh Paints) to further subdivide her palette to create her very own colour constellation. (with big thanks to Kathryn for permission to use the photo)
How many Seasons a PCA system has would have no influence over my choice as a client. Really don't care. I put that on the "Paying Attention To The Wrong Things" bus. What would matter to me is:
1. When the analysis is done, what do I know, what do I have, and how successfully can I use it? First, how accurately prepared is my shopping palette – the reverse of that being, how likely am I to make shopping mistakes?
2. What knowledge about my colouring did the analyst share and teach and demonstrate? Doesn't matter so much if she can tell the difference, though I sure hope she could…but can I tell the difference at least a little, or do I know for sure why she chose what she did? Otherwise, I'll be haunted by uncertainty forever more.
No analyst, from any system, wants women saying "I was typed an Autumn twice, a Winter once, an Autumn flowing Summer…" You know the rest. That should never happen again.
The analysis process and the colours of the drapes and palettes need to be standardized and correct, every woman, every analysis. If
one analyst is using full spectrum lights in a neutral gray room,
one is using sunlight in a greeny tan hotel room,
one doesn't mind if you wear makeup,
one is swirling drapes around in a busy hair salon and takes 20 minutes to pronounce a Season,
one has an unlimited number of drapes,
one has 4 sets of drapes that she mix-and-matches,
is it even remotely possible that women will understand their colouring and be given the same palettes to shop with? As long as the presence of one colour changes the way surrounding colours appear, and it does, then you have to be careful where and how you do this or have super-calibrated eyeballs. Not saying you must have those lights and the grey room. In one of my travel locations, I use overcast-day lighting. It has no colour effect on the person's face and it works really well. Any non-neutrally coloured items in the room are covered with gray dropcloths.
We want emp. Hold on. Where do I get off presuming to speak for the group? Never would I do that. I'm the late arrival still getting caught up. Still, an outsider looking in might see a dedicated and creative assembly who have more in common than not, and also maybe a few holes, the patching of which might move the entire profession forwards. Dell, HP, and Sun don't have to merge but they do have to follow similar rules about components and conditions to get computers to work as consumers expect. And then, everybody owns a computer, everybody knows their best colours. Fragmented as we are, mass appeal is unlikely. Not enough mass faith.
I dream of an empowered woman saying "I was analyzed by Light Interior Colours. My main colour family is Golden Autumn Light but my colouring found better agreement when a bit of Dark Pewter Light was added in. I get that Soft Copper Light colours look too pasty and bland, even though Mom was always stuffing them through dressing room doors. I took her with me so she could see this for herself."
And her colleague responding, "That dark chestnut hair you have now took 10 years off you. I'm proud of you for having the stamina to follow through. It's hard at first, I know. I saw Joan at Skylight Colours 10 years ago. They call my colouring Dark Chocolate Winter. Wow, I love your swatch book, the vinyl is a good idea. Look at that, you got 82 colours and I got 42, and they seem close but they're not.  I hear you about the Mom thing. Mine, even at 50, she could wear jeans with rhinestone studs on the back pockets. She was always putting me in neon colours. Shopping for summer clothes was the absolute worst. I dreaded it for years. Loved Back to School though. I finally get it."
My other issue is one of taste, where right and wrong don't exist. I have to assume that all analysts look for the same changes in the face, but some may prioritize differently because of their training (which I don't understand, jaundiced and shadowed never look good, do they?, guess I need to take their training) and some may just plain think certain things look good that I wouldn't. The photos that many analysis systems suggest are attractive are those where I see these women almost at their worst. My eye doesn't see a blonde Victoria Beckham as the most beautiful the woman could be. To look at, all I feel is uncomfortable and wondering what she spends on this. And these are retouched magazine photos! How do real women stand a chance?


Victoria Beckham Pictures
Think about this: Which Victoria gives you get a feeling of oneness?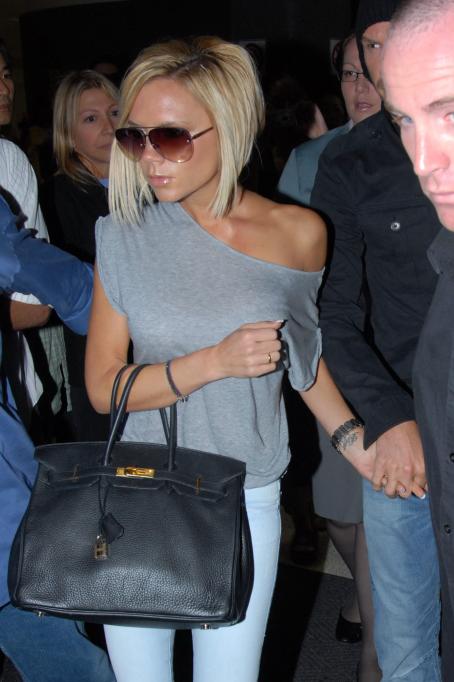 David Beckham and Victoria Beckham Pictures
If you say "Wait a minute, I think she's an awesome blonde. It's fun to change things up.", that's quite fine.  Many analysts would work with you to enjoy hair and cosmetic colours that are distant from your inborn ones. Totally OK.
Me when I still believed that hair should be lightened as we age and that blonde flatters everyone:
A later me, hopefully with hair that looks more fluent and flattering with my truths. Not my best, but it feels closer to real&right.

Ask yourself: Which woman is closer to her center?
I believe that finding and holding one's center is an essential practice when we're tempted by wrong destinations and straying feels so easy. With a solid center, our roots might feel a little tug when the wind blows, but we won't keep changing our position. We can sense that grounding in others, and they in us, based largely in how we look.
As you know from my book, or maybe from looking at your friends, when we look processed to a place too far from how we were meant to look or could possibly look naturally, I don't see or feel beauty. That's a woman who has taken her own melody so far out of tune that the parts don't fit together anymore. What feels good and strong to look at and be around is unity.
If you didn't read the quote in the lower L of the middle Katie photo, be sure to do so.
April 22, 2012 by Christine Scaman · 21 Comments
Colour analysis is interior decoration of the soul. If we could extract our soul from our body and stand it beside us, would the two be the same? How beautiful is it when the things we wear are like a window that lets others see to our ocean floor from high up on their own mountain road.
So Bright Spring. Here we go. This Season…this ode to the magnificence of colour so beautiful, a heart aches.
The knockout that is Bright Spring, this woman often looks formal and dark. Once she recognizes you, her smile lights her face and she exudes warmth and charm. She looks much more complicated than she is. You expect her to stand on ceremony and convention but not at all. Her personality is quite informal. The simpler things in life make her truly happy and she knows how to pause and recognize them.
In 12 Season personal colour analysis, the Bright Spring is the person whose natural colouring is based in Spring's spunky, sunny colours. Winter added a bit of its blue and red, but her inborn colours are not nearly as dark and detached as you guessed.
Like the fox, the seahorse, and the swallow, she's busy when she's standing still. She is sharp, delicate, and quite sweet, like spearmint. The yellows, oranges, and browns in her eyes (and Bright Winter's) are the glowing, pure, peachy red-browns of the animal below, which we'll see later in dark carrot pants and clear topaz stones. There is no sense of weight, darkness, or toughness. Quite the opposite, she reminds us that the most generously coloured life forms and ecosystems are the most fragile.
Thanks to Heidi for helping set the stage for us. It looks like Winter but it so is not. It's young, modern, energized, over the top, waiting to dance, exaggerated, and it never stops moving.

If you live in the US, access this version.
Bright Spring Colour  Equations
In the book Return to Your Natural Colours that you can see pictured in the right column above Recent Posts, a chapter is devoted to each Season's persona, natural setting, relationship with the other Seasons, best styles, textiles, cosmetics, hair colour, and jewelry. There is also a section called Colour Equations (CE), a conceptual bridge between the Colour Book of swatches that you take to the store and how to translate into colour combinations. The CEs are helped by some illustrating.
Cheat Black In
No point pretending it won't happen. And why not, but go easy. This isn't a green light…and don't accelerate for the yellow, it's about to turn red.
Use the smallest real estate possible for the black and not right under the chin. Open necks are better. Just let black bring the picture into focus.
Break it up with a lively print.
Add animation as shine, details, and accessories.
Give the eye distractions. Use pure, juicy, colour so delicious that it can't get bogged down in the black and keeps moving along.
If there's black  in the top, consider not wearing it in the bottom too – as the triangles top with the light pants. At its best, this look isn't overall dark. Still, black and beige just can't pick up any speed and on this woman. Compared to her, the clothes seem to be moving in reverse. The look is not creamy or gradual, because the woman never is.
Few Bright Springs probably guessed their Season right. They've lived as Winters for years, or some kind of Summer. Darker outfits (blue purse outfit on R) can look quite fine but serious and Wintery, where light is being pulled in. Take the same top and add light in everything else, white pants, yellow shoes, transparency in earrings instead of density – I think it's better. Spring emits light.
The two models lower L – the  blonde girl (perhaps a Light Spring) shows a dull way to wear black. It's trying to own her. We lose interest in the girl and seem consumed with negotiating the black block. The woman to the R, very possibly a Bright Spring, wears similar colours in clothes with less weight and more movement. Bright Spring is not a heavy look, it's like aluminum foil.
Like her Dark Autumn look-alike, Bright Spring is much better in black and cream (DA's being a far darker browner cream) than in B&W.
If you wear black, choose warmth in your other colours and  accessories. Silver looks more Winter and a little dry.
Green dress/yellow purse in the center – this print is quite random for a Winter person. This could feel unbalanced or zingy on some Bright Winters, and just perfect for the show biz energy of others.
Darks with darks can look too dark. Build an office look with greys. Add interest and entertainment, like the pink purse at the top.
Even Grey Should Be Fun

Light and energy must come out of it. Vivacity is always present in the face, the eyes, and the movements. They are quick and neat.
Textures and edges are smooth and shiny because the person is.   The control of their Winter side won't let them appear shaggy, haphazard, or erratic. They do look unpredictable and spontaneous. The song "Shiny Happy People" was inspired by Bright Spring. The cardi at top L is Lurex and you can still add colour and fun with the beads.
Every woman works out her best use of contrast on her own, it seems. A general rule for this group is to keep it high and clean. Outfits in various versions of the same colour don't usually make sense (unless contrast is very high and/or edges very sharp), meaning distance between colour types and darkness levels is quite high. If she is older, the coolest looking lady at church with her white hair, dark brows, and turquoise eyes, she'll bring these closer together to repeat what she looks like.
There is no true red. Here, we have clearest orange, many pure lipstick pinks, fuchsia pinks, and purple pinks. Red only appears in the Winters but you can cheat that in too. That red pants outfit, lower L – cover the silver watch and look at it. Then cover the gold watch. Isn't that intriguing, that shift in what the eye notices?
Notice that the beiges are very very pale light, barely yellowed, not earthy browned. Rather like 'icy beiges'.
A full grey dress (middle top) needs to be jazzed up with more colour. Sunglasses like those are small but they'll get noticed and will hold the viewer's gaze and attention.
Gold is good. Not too hot (yellow), very shiny.
If you look inside your eyes, many will see those dark carrot pants. So will many Bright Winters.
At the center of the lower band, see the girl in the grey blazer, two-tone shoe? Let your eye travel from the earrings to her face and across to the tank top. See all the repeats?
Watermelon and moon slices, outfit R side : On a person who looks polished and streamlined (your weight has nothing to do with it), pick jeans that are the same. Next to you, faded can look like a rag. Too dark is better than dusty, wrinkled, or patchy. Keep them ultra smooth and classy. And if you want to wear leopard stilettos (or flats), please don't let me get in your way. It looks better than most other things.
Detail + Innovation + Restraint = Originality (Sp) +  Discipline (W)

As you overview the collection, can you feel Winter's presence? It causes Bright Spring to have a much tighter way of moving the body than the relaxed and unconfined True Spring.
Mixing silver, gold, and other shiny metals is fine.
If you wear black, taupe, and beige, make the print electrified and the cut, cough, distracting, as the dress in the top R.
Black and white have tipped over to Bright Winter, perhaps more so in the colorblock print at lower R, regardless of how hot the other colours are. Try to avoid pure black and white together. If you wear one, don't wear the other. B&W only really looks good on True and Bright Winter. Even the Dark Winter could think twice unless she is very cool in her colouring.
Pure stark white pants are one of those items most of us must think about carefully. To me, they look right on the True Winter, Bright Winter, Bright Spring, and that's about it. Take pictures of yourself and look at them yourself. You can see oh, so right and oh, so wrong within seconds. Light shoes are pretty good despite having dark hair if contrasting with the clothes. Not white pants and white shoes.
Don't get too matchy. You can be as Classic-symmetric or  Gamine-irregular as you body's lines dictate, but keep the humour good, free-spirited,  and lighthearted. Even at a meeting, as outfit L side, keep shine and design interest in a grey jacket, wear a pink but simple watch, add dangle and sparkle in the earring.
Bright Spring = Lighting the Darkness

The icy blues and greens dress at top R – yes, it could be sunnier. Maybe this is cheating white. Wear pale gold earrings so as not to cool it further with silver. It could be more contrasting but that bit of black looks more at home on Bright Spring than anyone else. The print could be less watercoloured. Whatever. The dress is beautiful. Imagine seeing that woman on the dance floor. This is heart-stopping beauty that no other natural colouring could wear so well. Don't take my suggestions too literally. They can't apply equally to thousands of women. Make it work for you. The dress is also an example of high saturation light colours (Spring), without being so close to white as to be icy (Winter). We often hear "high saturation" and our imagination shoots right up to dark sapphire. High sat means not softened with gray.
Our red is a wardrobe neutral too, more out there than taupe but equally versatile. For the three Springs, traditional neutrals (grey, beige, taupe) can be too monotonous, like a dial tone voiced over a wind chime or a water cascade. No  match found. Wear your colours a lot.
Consider making the clothing coloured and the accessories grey/beige/taupe.
Details are good. Orange starfish (with diamonds), not orange balls. A shiny cap on a toe. A star shower, not a single star.
Could Miu Miu be the designer?  Something about this colouring is so very young that anything remotely kiddish accentuates  a feature that already comes across very strong and you might not want at the office. I'd leave ribbons, little animals, peace signs, and hearts for after work or to the Seasons who could use some de-formalizing, especially if they work with the public. On any Bright Sring, the Winter aspect lends a seriousness and maturity that may not suit very young additions perfectly, but they wouldn't be as out of place as on Dark Winter.
Springs have known all along that life really is this much fun.
April 7, 2012 by Christine Scaman · 19 Comments
Many a newly identified Soft Summer figures this is it. Forever.
It's fine and everything but so, you know, safe. That's Soft Summer with some good building blocks, but an overall effect that's a little too generic light grey.Where's the excitement? Where's the fabulosity?
Many (all?) clothes need to hang on the right body to come into their own. Soft Summer colours are pearls when they find the right skin. This post in the hope that one day, women will secretly wish to be a Soft Summer and be thrilled when their colour analysis lets them claim the palette as their own. It comes from imagining how even the most casual outfit has such elegance of suggestion and impression. Much of what was said about Romantics in the previous two posts caused me to realize that I could equally well have been describing the colour effect of the Soft Seasons. Of course, Mr. Kibbe describes this in his book, where Yang colours are vivid, dark, and matte, while Yin colours are soft, bright, and glossy.
Our subconscious is the playground between what we understand and try to control and what we can't. It speaks in the language of colour and shape, which translate to symbol and feeling. Thought is Yang and intuition is Yin (just IMO, not research). Thought could be subdivided into linear, directed thought (more Yang) and the deliberations of abstract thought that deliver information disconnected from time and space (more Yin). Soft Summer's colours always create very strongly in me a nebulous, shimmery sensation of being in an unreal place, a manifestation of the abstract mind, the ultimate right brain landscape. Ghosts of shapes and whispered sounds seem to move into sight just above a watery surface then fade back under to another form, like apparitions. I have to apply effort to see anything else when these colours together are in front of my eyes. I always sense an incredible balance between intellect and emotion in this person too, as if they live in that mind space where Yin and Yang are very intertwined. Imagine a Soft  Summer Romantic! Wow. Now there would be gifts you'd want to tap into.
Sometimes, women try out various colours in clothes or lipstick as they try to find their own colouring among them. They've read to use the extremes for this test, those colours no other natural colouring, or Season, would wear as well. For Soft Summer, they find that grayed mauve lipstick and a grayed pink cardigan and take photos or ask friends and family.
Unless the former lipstick colour was crimson, it could be that folks can't make the adjustment that fast. Especially if you still have your old hair colour, which sends every colour perception about your face and cosmetics off to the four winds.
Soft Summer may have it the hardest because they keep hearing the word grey. When you're not sure of the degrees, there's a tendency to over-grey. As a short rest from Kibbe Seasons, now that simply Season Polys are a snap (or almost, Bright Spring Neutral Colours still experiencing delays), here are some Soft Summers Polys enjoying my vision of a colour palette whose peaceful beauty and gracious sophistication has no equals.
In 12 Season Personal Colour Analysis, Soft Summer describes the colours that combine to create a natural colouring that could look like Katie Holmes, Kate Middleton, or Angelina Jolie. Her basically Summer colouring mingled with a bit of Autumn's light, so  a Neutral Season. Various darkness levels, yes, but darkness level isn't the TMIT for this group. It can slide up and down on the light/dark (Value) scale. What matters most about how they're coloured and how they shop is that colour never gets very pure, bold, or saturated. It's just a little hushed.
This is getting livelier.
Below, the incredible burgundy raisin of the palette, the elusive yellow, some good light to dark graduations that get a second look when done in snakeskin.
Still more colour, more saturation, more colour variety, keeping the flow by repeating versions of a colour rather than the copy colour. The scarf on the right has some olive beige, so fold it to hide that and wear it as a belt.
If music is the art of thinking with sounds, then our appearance can be the art of thinking with colours, in the shapes attuned to the music of our own geometry. I feel the new challenge coming on of creating all 13 Kibbe styles in one Season's colours.
The outfit on the right was feeling metallic, in the cool stiff way of aluminum, but I liked it. The scarf is there to introduce the feeling of softness with folds and flowers and add many more colours in small blocks.
From Return To Your Natural Colours, the blue book near the top in the right margin, this section appears in every Season's chapter. For you to see what lives in my imagination, it needs some illustrating.
Colour Equations
One light to medium-dark colour + one medium dark to dark colour
One medium-dark colour + one dark colour
One light to fairly dark neutral colour + one light to medium-dark colour
One light to medium-dark neutral colour + one medium to dark neutral colour + one colour in smaller area
One light to fairly dark neutral colour + one light to fairly dark colour + one smaller colour block comprising all three colours
Monochromatic, analogous, or gentle complementary colour combinations.
Overall medium to medium-dark effect
You see that it never gets very light or very dark. Complementary colours appear as reds with greens or blues with oranges as the 5th from left (where the orange is a very light beige made from a base of orange, dropping its value and saturation enough). The overall feeling is more cool than warm but not fully cool. You can sense there is heat here.
It's bluebells in a drizzling rain, a lake in the Scottish Highlands, the coastline of British Columbia, a California winery when the fog rolls in. In Photoshop, the saturation doesn't go over 35% when I make Soft Season colours. To give you perspective, Dark Winter's are about 75% to 90%, True Winter's are 83% to 93%, and Bright Winter's run over 92% and most of the time over 98%.
For that last outfit on the R, I coloured the top and bottom blocks as analogous (green and blue are beside each other on the colour wheel). I imagined a colour halfway between the two for the handbag – because any colour that you could imagine as being between two of your colour analysis swatches is also most likely in your Season too. The scarf/neck detail is Soft Summer's orange, bringing in a complementary effect.
As always, you own the Colour Book, you own the system. All the theory has been worked out for you. You mix them anyway you want to, your appearance is still a smooth even ride that others are happy to take.
April 4, 2012 by Christine Scaman · 19 Comments
These articles about wearing your own colouring and your own body lines borrow their colour palettes from the 12 Tones or Seasons of colour collections by Sci\ART founder Kathryn Kalisz, more accurate than any other I know, and the body line categories from David Kibbe's fascinating and brilliant book, Metamorphosis.
In Part 1, we talked about who the Romantic woman is inside. It is that essence that we want to project as faithfully as possible because therein lies true beauty. We met Roseanna, our very beautiful model, in the previous article, with sincere thanks to Maytee Garza for the Sci\ART colour analysis.
In trying to get a sense of the body to choose clothes for, because Dolly Parton was too extreme, I thought of Linda Ronstadt as an example of this very sensuous hourglass figure. She always seemed lush on film, especially as her career and body matured. But I was in error. Look at this fantastic collage Paisley made:
When I opened this, suddenly all I could see was Yang straightness and angularity except for the huge eyes (and she's 5'2″), like a little spider. I so didn't get this before. This combination of extreme Yin (huge eyes, small body size) and Yang describes a Gamine. Smart women whose understanding of body type are light years beyond mine suggest that Linda is a Soft Gamine – so a Gamine first, with a trace of Romantic. Happy to hear I got the R part right.
When Kibbe said hourglass, he meant hourglass. He meant tip-to-toe luscious. Carrie suggested Christina Hendricks, no doubt a perfect choice. I can see that Roseanna is closer to Christina, with fuller lips that balance the size of her eyes better, where Linda's mouth is smaller. She gives a more womanly impression than Linda's ethereal, waif-like proportions.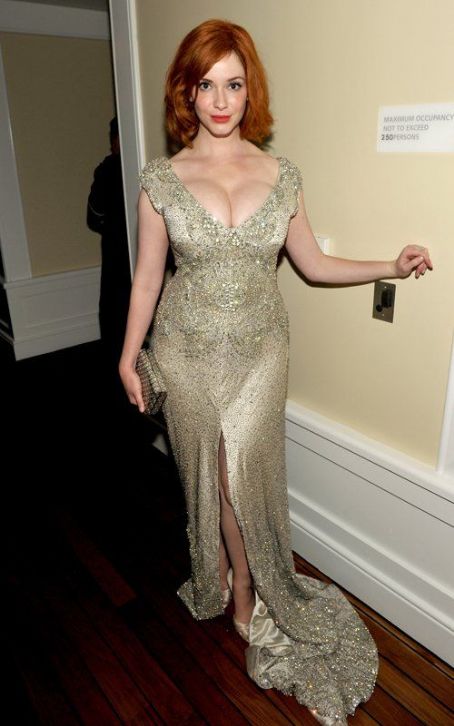 Christina Hendricks Pictures
Suddenly from these photos, who these women are inside comes clearer. Colour and Kibbe are the same. It's all in the comparisons. What you can't see about a garment, a swatch, a lipstick, or a body's lines can be sweet-talked into revealing its truths by placing it besides something else, anything else. The closer in colour or line the two things are, the more their particular dialects are divulged. It works both ways. Seeing beauty as how close you can line up to the 19 year old blonde model seems to really just emphasize the differences. What's the point in being her? That's cookie cutter stuff. You are who the world wants to see.
Getting carried away again. Let's look at some clothes. Costume museums would have many of these outfits, the teal suit on the stand in Poly 4 being an stiffer exaggeration. Frothy fabrics, even florals, felt out of place, better placed in Theatrical Romantic.
Here is Poly 3:
- Framing the face matters greatly when a choice is being made among details, but the hourglass is essential. Simpler necklines like the grey cardi-T top need a necklace or a hat or some accent around the face.
- Flowing means not stiff, tight, clingy, or straight – because one could think of curve emphasis as tight but this Yinnest of people is indirect so I avoided anything that felt remotely overtly revealing or even provocative. Perhaps the grey cardi-T needs more draping or something worn over it.
Poly 4: 
- These clothes remind me of the power that comes from suggestion, like a hypnosis rather than grabbing. An old-fashioned attraction rather than the modern version of seduction, the line between come-hither sparkle and the modern version, glitter, needed to be addressed. When I looked for R clothes, I held a face and body without a single masculine element. TR is similar, only more pointed, and glitter works better there, I felt. TR feels also a little more girly, girl being more Yang than woman (who is R) in that way of tomboy and still undefined sexuality (maybe why ruffles seem better there too). Could you agree? Glitter feels Yang to me and belongs with the Flamboyants and Dramatics.
- Patterns appeared to distract, distort, or just get in the way of a bone structure as delicate as Roseanna's. The 3 colours at a time Colour Equation (this comes from the blue book, RTY Natural Colours, just in the right column on this page) depends on the woman and the print. If one of the colours is from the hair, the eyes, a neutral colour, or a colour elsewhere in the outfit, any of those would reduce the colour busy-ness and perhaps allow the majesty of this face and body to take center stage where they belong.
- Waist definition means a physical tie or belt. Using a print to create an hourglass (like the long dress in Poly 5 below) or just having some ruching bunch up at the side waist seam isn't enough unless there's an actual waistband. An interesting thing I learned from Susan is that a horizontal colour block at the waistline can exaggerate a waist. The swirling antique skirt at lower left Poly 4 is an attempt, with a cardi to the left of it (not TA colours) to show where I was going. I wondered if the sweater floating around, with the waist definition from the tank, could look suitably allusive to the hourglass , but maybe it looks sloppy. He said short/tight/clingy so I guess that's my answer.
- The purple dress, how I love bronzed purple on Autumns, has the curved neck, the hourglass, and the flow without flop in the skirt that allows the curves of hip and bust. I had some Oscar de la Renta feelings but he can be too light and airy. This is looking more John Galliano for the simple abandon to ultimate curves.
And Poly 5:
Please help me with those dresses 1 to 5.
- does off the shoulder work, as 5?
- must a skirt be swirly as 4, so is the skirt of 5 too straight?
- what about the V-neck on 3? are rounded necklines much better than V?
- does 2 need more draping?
- is 1 too busy? at some point, all those swirls in the skirt form a multitude of vertical lines that gives a Grecian column effect? would you agree or no?
- the brown skirt below, is it too flat at the waist and too floppy in how it falls? I haven't quite understood the line between Skater Pouf and droopy looking without some gathering at the waist.
Hiding this body under a trench felt very Mata Hari in a good way, a draping classic camel. The power of suggestion is who this woman portrays.
Angie
I told you about Angie, my beyond wonderful facialist. I feel she's a Romantic. Here is her face. (She is about 5'4″ or a bit taller.)
As you see, Angie is so beautiful, it's almost distracting. Our conversations are more productive because I'm lying down with my eyes closed. She wears multi-stranded short necklaces with huge pearls all swirled around each other and looks fabulous. Her saturated darkness brings much intensity to her very curvy body, like a union of opposites. In our existence, there really is no right and wrong, no good or bad, no beautiful or ugly. Everything flows into, through, and out of everything else. Though we hold beliefs (very limiting beliefs) about these based in many life experiences, we are equally Yin and Yang. Conceptually, Angie seems to me that individual that closes the circle between the Yang Dramatic and Yin Romantic positions at the far ends of the Kibbe scale.  That her many gifts would be placed in a body that resides at one extremity of colour and the opposite pole of line feels somehow rational or obvious.
As Susan showed us (on facebook), women of dark colouring can seem more dramatic than they are. They still look better if they dress in line for their body type. The drama of their colouring is expressed simply by wearing the palette, or Season, that holds their natural colours. This would feel very complete to be and to look at.
In the last two years, as we took the Colour Ride together, we learned this: It takes scrutiny that gets uncomfortably close to home. It takes many photos, conversations, and walking on shaky ground. It means taking the lid off your pot and examining what you most want to avoid, the beliefs you have about what looks good and looks bad and the value you've attached to these. Your hot spots and trigger points will try to stuff the lid back on. Talk yourself out of that or you'll still be in the role of victim, a weak position that doesn't tell the truth about the strength you know you have, the strength it took just to ask the "Who Am I?" questions.
I have said and strongly believe that we are Beings of Light. I  mean that as much literally as figuratively. See yourself that way. Keep moving towards the hottest, most intense part of your  light, even when the waters feel roughest. Don't let yourself turn back on what you started. Take the time to be grateful for the clarity you will find at more levels of you than you ever expected. Notice that your pain, physical and psychological, has lessened. When you love your so-called good equally with your so-called bad without conditions on that love, you find the confidence to just love you.
March 17, 2012 by Christine Scaman · 19 Comments
I have got the best thing to show you.
Globe-traveling Sci\ART colour analyst Nikki Bogardus told me how ingenious these swatch books, called plumes, are. Exact quote "You have got to see these. They're really quite beautiful." Although Nikki has been using (and will continue using) the colour palettes from True Colour Australia, she has recommended these to her clients who would like additional fans. I wholeheartedly agree.
Intriguing, to say the least. Kerry Stich of Indigo Tones, New York based and certified in the Sci\ART system, sent me the collection for the 12 Seasons. Meet Kerry.
Whatever I expected was surpassed that the instant I opened them. First thought was "How completely clever is this?"
The closest description would be that they resemble high quality, tightly woven badges that are stitched into the canvas. The colour square is raised above the backing slightly. The backing is just stiff enough to hold the weight of the entire strip without flopping over.
When Nikki described them as a type of embroidery thread or floss, I didn't expect there to be 12 x 60 different colours. The colours really are different from one another, amazingly. There are similarities among certain swatches in certain Seasons but not more so (or harder to tell apart) than with the printed Books. The Bright Spring blues are indeed yellower than the Bright Winter and to the correct degree.
Other differences compared to Colour Books where paint is printed on canvas:
- These are bigger by about 25% in every direction. The swatch itself, the strips, and the finished Book.  Not of much relevance to use, I don't think, just a first impression I didn't expect.
- There are nuances to the colours beyond what paint on canvas might express. For some, nuance may be the last thing you want, but not me.  I own Books for my own Season from Sci\ART, Spectrafiles, and now Indigo Tones. Each one represents a different perception of the same thing, taught me something new about my colouring, and allows me to be less rigid about my shopping.
- What do I mean by 'nuance'? For one thing, the shine took a little getting used to. The swatches have to be moved about under certain lights to fully grasp the colours. As you move them, you see several colours that remain faithful to the Season. This simulates many types of fabric very well, but especially, the shine does give you a better sense of how makeup would look on skin since most of it has shimmer or gloss.
- Not only are the metallics shown for each Season, you get 5 choices! You can see True Winter's silvers below and some of Dark Winter's peeking out from the top photo.
- Differences between similar colours seem easier to see – I've taken the photos at different lighting times and levels to try to simulate shopping in stores. Here are the Soft Autumn pinks and reds that I often find are hard to tell apart. The last photo shows another view.
- Colours between neighbour Seasons can be distinguished. Below are the True and Dark Winter greens. Are the colours identical to the printed Books? No. Do they have to be? No, not as long as the value, saturation, and heat levels are right.
- For colours that are challenging to grasp, like the neutral greys, beiges, and so on, these are fantastic to expand the perception of what the colour is and isn't. Even with my own Season, I learned a lot about the mid-level grays. This is even more true about the lighter neutral colours, as the Light Spring photo at the top shows.
- Like with the canvas, the more you work with them, the more interesting they become. I think of upholstery, denim, velvets, sheers, fabrics where colours can have several levels and/or the paint dots can seem uncertain to some people. I wouldn't say these are better but they sure do flesh out a decision that can feel a little shaky. I used them exclusively to make the Polyvores for the last two articles. It took a little practice, what doesn't?, but some comparisons are actually easier to know you got right.
- I asked Kerry about fading or snagging, though there's nothing they'd really snag on and regardless of which Colour Book we have, we know better than to leave it open, especially in sunlight. Her reply,
The books should not fade……….they are colorfast.

They occasionally will snag as anything that is embroidered will but we have designed them with a high thread count to reduce that as much as possible.
- If you're of a Season where the printed books seem, ahem, lacking in radiance, you know who I'm talking to, you might just fall in love with seeing yourself through these eyes.
Original. Unique. Creative. And so pretty!! What a gift for a graduating daughter, your bridesmaids, a Mom you adore, or a young girl to unwrap and fan out. Or for you. Buying yourself presents is one of womens' most neglected latent skills.
Kerry would be happy to answer any questions in the Comments or by emailing her at kerry@indigotones.com. Shop for the Personal Color Plume Swatchbooks at www.shop.indigotones.com
March 10, 2012 by Christine Scaman · 28 Comments
Here is an actress I greatly admire. Although she was a beautiful Juliet Capulet opposite diCaprio's Romeo, when I really took notice and have loved her since was in Stage Beauty.
I've also come to understand that we express more than colour. We express line, pattern, and motion.  You can't just wear your colours, though no others on Earth could flatter you better. If the style does not respect your lines, patterns, and movements, harmony continues to elude.
That Dramatic True Summer was very worryingly difficult, so I'm trying an easier combination today, the Soft Autumn Natural. It came back to me that colour felt worryingly difficult in the beginning too. Having a real woman in mind gave me an endpoint I could envision and taught me how the Seasons' colours work together to make a picture. With each woman whose colours I analyzed, I could write the articles and start seeing the similarities. I'll have to learn Kibbe that way too. By holding Claire in my head, the need for length past the hip in a jacket becomes clear.
Kibbe's book is the only personal style book that I can get to work on me and others. Indulging my love of an adjective, it is comfortably organized, ergonomically specific, and reliably stratified. And reproducible! Using his system, five people should come up with the same style answer for a given person. Kibbe's translation of a very abstract thought system is linear and logical.
I'm a beginner. I need to start with easy pictures and lists. If we set out discussing tempering chocolate, I will never produce a chocolate cake. If the idiosyncrasies of different analysts' tastes come into the picture too early, I'll get confused because I won't be able to tell them apart from the basic truths that really do apply to me.
I also think his 13 types is complete and enough. It just takes time to figure out what he means by certain terms and descriptions and to get a sense of the relative differences between the groups. Like, what exactly is a straight skirt? Of the 3 types with small rounded facial bones, whose are the most small and round?
Soft Autumn Is
In 12 Season personal colour analysis, 'Season' describes a type of natural colouring. In a Soft Autumn, all the colours that make up the body, skin, hair, eyes, maybe veins, teeth, inner lips and cheeks, and internal organs for all I know, are:
- muted, soft, heathery, so slightly calmed by a murmur of grey
- warmed quite a lot, as every colour appears in a late afternoon sun on a day with a little overcast
- fairly light to medium dark, no extremes like black and white
Looking at the person, you see the colours all at once like when the swatch book is fanned out. The feeling is affectionate, safe, restrained, sensitive, mellow, supple, and sympathetic. Words like strident belong somewhere else.
Kibbe's Natural Is : "Girl Next Door Chic", "Losbter Party hostess".
He also has a Flamboyant Natural – who's the modern version of Carly Simon…Miley Cyrus could be FN. With her bigger body, broader facial bones, smaller eyes, I wonder also about Andie McDowell (not a Soft Autumn).
And there's a Soft Natural category…the Olsen twins?
YES:
- soft and round edged geometric shapes ; slight oversize/unstructured
- earthy materials, slightly chunky
- outline relaxed, straight, narrow, loose, soft tailored
- textured fabrics; glitz at night
- detail minimal, simple neckline, open neck, soft shoulder
- mostly separates, mixing pattern texture colour
- color pizzazz, break the rules mix n match, neutrals with texture
 NO:
- circle, swirl, ornate, sharp, severe, fiddly
- sheer, clingy, flimsy, restrictive
- cropped, monochromatic
SA N Separates
Soft Autumn Natural Separates by christinems featuring a fringe skirt
SA Dresses
Double check:
- relaxed straight lines? yes, pretty good
- bold and direct? I think so, enough anyway.
The hard part: keeping colour zippy and colour combinations energized. I even consulted Kobayashi's Color, Image, Scale, best colour combinations ever, and didn't have much luck getting pink beige into any snappy colour combinations without losing my Soft Autumn vibe.
Like: that it feels tight in style, not just colour. I don't look at any item and think "Why in the world would that be there?" These could all live in one woman's closet.
The Hair Style
I quite like chin length hair on Claire. If the bob were not severe, keeping to the idea of rounded edges that are a little fluffed, perhaps this?
The Hair Colour
Highlights, bleach, or any kind of processing that is obvious will feel forced instead of being true to the feeling of naturalness that an N emanates.
Though Hollywood advice to Soft Autumns appears to be that blonde is necessary, it is never the best choice for the skin, whether she's an N or not. The natural colour is usually medium-dark warm-ash brown. Very medium in colour. If the texture is also without body or definition, the hair feels left behind once the woman is dressed and made up. Consider a colour that is one shade lighter and a fair bit warmer than the natural colour.
JLo Lite, like what's at the ends of the hair. Golden Blonde before anyone would call it red.


Jennifer Lopez Pictures
SA N Makeup
Natural means the no-makeup look, which can still require a good bit of makeup to achieve. The movie makeup and hair artists in the poster at the top did a pretty good job.
Try these and let us know what you think:
Bronzer: Urban Decay Baked
Blush: Mercier Rose Bloom
Eyeliner: Urban Decay Stash
Eyeshadows: NARS Portobello, Key Largo, Blondie
Lipstick: Givenchy gloss Delectable Brown
Which brings up the interesting question of what a SA Dramatic would wear.
Other SA Kibbegories
C. had a lovely idea, comparisons. Katrina did just that with a SA Romantic and it's brilliantly good.
Here is Jen's Romantic Soft Autumn. We know with colour that two women of the same Season will interpret their palettes very differently in the items they choose to buy, how they colour their hair, or wear their makeup. The same applies to Kibbegories. We still retain every bit of our individuality. Our creativity is simply more focused and our visual voice is so much more beautifully coherent.
If you did a Polyvore of another Kibbegory, please post links in the Comments. We'd love to see it.
February 26, 2012 by Christine Scaman · 20 Comments
Once again, in 2 parts. Sorry, I get going, I cannot get stopped. This post will be about the True Spring – a type of natural colouring in itself and an influence on 4 other types of colouring, or Seasons – and seeing what those neutral colours are in comparison with True Autumn, the most likely baffler. Part 2 will be about working neutrals into an office wardrobe. There, we'll compare Light and True Spring to see the size of the heat, saturation, and darkness shifts between them.
The only ensemble in which I could abandon colour for all neutral tones on any Spring would be the Light Spring in a selection of creams and beiges. This monochromatic scheme leans on the Summer influence of that Season and it looks really good. The Bright Spring needs more contrast. The True Spring needs more colour. Colour is so in place and at home on Spring that we miss it when it's not there. They absorb it into their body the way Summer does blue and Winter does contrast. Colour is as necessary at the office as on the beach.
One Light Spring said,
One thing that I struggle with a bit is integrating the neutrals and the colours of the light spring pallet. With light summer, the greys work beautifully with the brighter colours of the pallet but I find it hard to wear the browner neutrals with our colours. I tend to wear a colour (or two) with blue denim, a neutral (or two) with blue denim, a colour (or two) with cream or ivory, or two or more colours. I can't seem to make the leap into mixing a wide range of my neutrals with the colours. As an aside are white jeans doable for light spring, should I only look for cream?
Before I forget, I'd go for ivory buff or light grey in jeans rather than white. The effect of white can be bit like black in that it gets bigger than it actually is if it's not balanced. It can twinkle in places where most of us don't have that outcome in mind.
We looked at Light Spring landscapes in Light Spring Looking Serious. The white needed to lighten that palette makes many colours appear milky. Not so in the misty Light Summer or the clear, pure True Spring.
The whole series of landscape articles came about as a way of seeing yourself the way the rest of us do and to objectify what you add to the picture. Which earrings belongs? Which lipgloss doesn't? True Spring's landscape… tulip fields? For sure, but watch the saturation. As beautiful as those are, they can be such a riot of red, orange, and yellow that the image screams COLOUR!!!!! instead of
sunbeam hugs
 True Spring is an easy, playful caress, not a blood pressure spike. True Spring is warm and yellow above all. Imagine the difference between the coral reef and the crayon box. Colour is not shocking, it's freehand and sunny. Yellow light is radiating from every pixel of this picture. So would the person to look young, healthy, and tuned into their own frequency.
Spring generally does not care for suits, feeling too constrained physically and mentally.  They're not sure where life will take them next, want to make the choice themselves (but may have to overcome wanting every choice), and will resist any restrictions on the possibilities. Even in a perfect tan suit, it can look bland and more mundane than the wearer. The opposite can be true too, where a Winter in their suit looks more imposing than the wearer is or wants to convey. Blazers are in right now. It's a good time to create some inspired jacket/pants combinations. For situations where a full suit is needed, I would choose your navy over tan unless you find the tan suit that articulates enough light and interest to not look like menswear. Blue would look snappier.
Spring's stereotype is to have their extroversion translated as effusiveness. Not quite. They have caution and shyness. They are not diving into waterfalls any more than anyone else. Spring is not giddy or superficial, though deep philosophical conversations may feel lacking in wit if they drag on. The extrovert functions best when surrounded by other people. Spring will be bored at a conference alone for a week in a strange city. Winter may feel oddly energized by the freedom from emotion that strangers allow, like they're living a dream ..oh, wait, we're not talking about me here. Spring is less likely to exercise alone at home than the introvert who thinks and decides inwardly and moves away from extended contact time with others.
Every Spring I know, all 5 types, has a pure and unaffected sweetness. When they smile, they can literally light up a room, so much so that it takes you by surprise. Attire that feels like this
while superb on the right woman, looks bland, repetitive, dry, hard, and monotonous, that is to say, wooden, on Spring. There's just not enough going on for a person who feels like this to look at
and maybe this
or even
Spring, all five Seasons whose natural colouring has those attributes, has a necessary delicacy and lightness of touch. Like the mimosa, the leaves fold when touched. That anything so tender and sensitive could live in the first place, and more, share a beauty that seems other-worldly , even for a moment, this is the wonder of Spring.
True Spring is emotional with feelings that run near the surface. They are also deeply spiritual, whatever their Creator or Source image happens to be. For a being so sensitive, to be brought face to face with the question we all ask, "What is my purpose?", not knowing the answer or knowing where to turn can be very debilitating. True Spring takes life very much to heart and can be worn out by life's complications, wondering why things can't just be simple. You'd think everyone would want that but oddly no.
Bob Marley. Sun Is Shining, the Songs of Freedom, Island in The Sun, Is This Love, pick one.Why can't it be enough for life to be happy, easy, and safe?
Barbara J. Winter: "When you come to the end of all the light you know, and it's time to step into the darkness of the unknown, faith is knowing that one of two things shall happen: either you will be given something solid to stand on or you will be taught to fly."
Spring's Neutral Colours
Let's look at these colours, these greys, browns, beiges, taupes, and creams. Since any True or Light Spring who wants to look old and tired need only drape herself in black and/or white, I think of the darker blues as neutral colours too. Blue may have more colour signal than the other neutrals, but that's on everybody else. Spring can wear a lot of colour before it approaches noticeability. Correction: Spring ought to wear a lot of colour. In some ways, colours are True Spring's neutrals and it's everyone else's neutrals that Spring needs to plan.(Light and Bright Springs rely more on grey to be their neutral.) Because Trues share absolute warmth with True Autumn's browns and greys, knowing you're buying the right one can be hard.
Spring Neutrals             vs            Autumn Neutrals
peach brown apricot                        orange brown lion
clear beige sand                                brown beige cappucino
nearly greeny beiges                        nearly greeny greys
light and fresh  sunny                      heavy and thick earthy
stout beer is darkest                          coffee is darkest
blonde, Palomino, flax                     ochre, umber, sienna
bunny, chipmunk, house cats         bear, moose, wild cats, and often dog colours
yellow ivory, almonds                        antique ivory, old lace
wild chanterelles!!!                             cigars, light to dark
This Polyvore shows the True Spring (Left) and True Autumn (Right) browns and greys. Think about the diff between beige and camel.
- across the top left: a range of Spring greys with a bluer one on the right end to show you a Summer grey – how do you do this in stores ? Like for any other colour, go around and gather a bunch of items in that colour family. Even if they're close, they'll help your mind see which are the yellower ones, which are greenish, etc.
- center top L and R, side by side, the black ballet flats pants are Spring while the coral top pants are Autumn; greeny yellows are more Spring while Autumn's greened greys look like army Jeeps
- Autumn will go darker than Spring; Spring will look good and make better outfits in lighter pants than Autumn; Autumn's light colours are darker and heavier
- orange browns, mustard, red browns are Autumns; peach, blush, and yellow browns are more likely to work for Spring ; those in the center with the blue top, I could see on either, they have a pinker quality than the Autumn ones to the right
Words won't really help you shop. Here's the easy way: own your Colour Book of swatches. Own the Book of the Season that causes the most confusion, like True Autumn, though you don't really need to. In the case of browns and greys, there are not many overlaps or similar colours except maybe among the very lightest. Why certain colours go into each Season doesn't matter. I don't know either. You'd have to be expert at mixing paint to have devised all those precise tones. If you match the Book as closely as you can and think about the overall weight the colour of the entire item conveys, you will be fine. The difference between 85% and 100% isn't that important. The rest of the outfit will create a beautiful finished look.
February 13, 2012 by Christine Scaman · 38 Comments
The previous post was Dark Autumn Landscapes. In 12 Season colour analysis, the Dark Autumn group has a natural colouring that is mostly defined by the properties of the Autumn colours (dark, warm, muted), and importantly influenced by a smaller Winter effect to darken more, warm less, and mute less.
The Look
Winter does more than that. It inflicts intensity and complications (which is different from Autumn complexity) on a warm, natural, functional, undemanding (Autumn) group of colours. I said a lot last time about choosing dark colours that are still fathomable and knowable, glowing and rich as Autumn is, instead of black which is too Winter in every way. Black should be occasional from head to toe. Even in footwear, the dark bay Hanoverian horse is better than black. The shadows are black but where the light strikes, it's brown. If black is necessary, matte is better.
The dressage photo above says a lot to me about the intersecting line between Dark  Autumn and Dark Winter. Animals tie us back to our own earth origins and many are necessarily Autumn.  The horse is Autumn. The rider's outfit cost thousands but if you stood beside her, she'd be dusty and smell of hay. The white bandages, saddle blanket, and breeches are Winter's but the picture is about the horse. The animal is not black. He is darkest brown.
Winter doesn't only mean verbs like 'inflict'. It really never graces, embroiders, or enhances, and it barely embellishes. It bejewels. The rich texture of True Autumn becomes luxurious texture.  As Nana said about all Autumn, you must feel it to know it – fur, suede, velvet, raw silks. The photos in the previous post were chosen because they had texture – tapestry, fur, roughness, or the scaly skin of the cobra in the music of the bellydance. Texture expresses heat just as colour does. Absence of texture feels colder.
Autumn is close enough to touch while Winter has receded out of arm's reach. Winter can feel more modern, like a 21st (or 23rd) Century city.  Dark Autumn speaks of old luxe, dignified though not monastic. Vintage-antique (the Chanel cardi with handsewn silk flowers and bronze piping) works better than vintage-kooky (the daisy skirt).
As they bridge rural and urban, old world and new, tradition and Winter's yet unwritten edge, estate and city streets, their scope of looks is enormous. Buckles, zippers, chains, jackets with metal buttons. Riding boots (with breeches, suede knee patches and all), cowboy boots, cowboy hats, tough chic, biker, army. As long as the message expresses strong, work, utilitarian, muscular to some degree – because that's what the colours say. Then add in Winter's majestic and serious. Pouffy, polka, bows, round collars, to me, makes no sense. The colours are of Nature matured. It looks inconsistent and scrambled if styles are the opposite, as if the colours, the cut, and the person are all moving in different directions at once. Unstable.
Autumn is honest  so keep to the natural look of things. No pink leather or leopard shearling is what I'm saying. This is the Marlboro guy (actually, he's True Autumn to Indiana Jones' Soft Autumn). They borrow better from the guys (RayBans, neckties) than from the theater (cat eyes, glitter gloves). Brown is the color of work, countryside, and common sense. A very difficult colour to get right but so worthwhile since it is Autumn's black.

Halle Berry Pictures
See how his white shirt and the white wall are greying her face and lips? Do you get the feeling that if those were replaced with cappucino brown, she'd go all five-star dark golden?
Down below…now we're talking. Pageant Queen makeup has no place here. Pink isn't right regardless of complexion depth.

Halle Berry Pictures
Strong flavours. Mustard, spice, vinegar. There is nothing nothing wishy-washy here. A T-shirt and pants?  I hope they were free. This is the legging and the dark cognac equestrian boot, the tribal print scarf and ethnic earring, the leather vest, the heavy medallion necklace and the oversize belt, the bronzed burgundy suit jacket. Like a wine cellar, it's a Season that acquires itself over time. You should hear the drums, taste the wine that fills your whole head, and feel the heat of the forge.
Fabrics don't have to be completely stiff or lines utterly straight. We're dressing womens' bodies after all. Drape is better when it's not overdone and the fabric has some depth, like heavy velvet curtains.
Wear prints like stained glass.  Patterns are pronounced, definitions between colour blocks are quite distinct and strong, and colours are prominent. A Rubik's cube geometric is too repetitive. An element of antique, abstract, indigenous, or unrestrained is good.
Colour Equations
This section is taken from the Dark Autumn chapter of the book, Return To Your Natural Colours.
One very light colour + one medium-dark to dark colour + one medium to dark colour as accent
Two medium-dark to dark colours (or neutral colours) that are different
One light, medium, or dark neutral + one dark, medium, or light neutral + one colour as accent
One medium-dark to dark colour + one light, medium, or dark colour + one colour as accent
Little use of complementary colours, in small areas only
Overall medium-dark to dark effect
What that looked like in my head:
Translated into clothing:
Dark Autumn casual by christinems featuring wide leg pants
Dark and cool recede. Here, with dark and warm, a push/pull visual effect is created that adds tension (Winter's complications) and interest.
If you think about it, you can see some clearing and cooling. Previous fluidity is beginning to set and stiffen. We have to add in the person, her warm chestnut to warm black hair, perhaps her faint red highlights, her bronzer and flesh-tone eyeshadow surrounding her dark chocolate eyes, spiced peach lips, deeply coloured stones in warm, golden settings, the purse and shoes, to fully appreciate the dark warmth. The viewer has a lot of colour to integrate.
Icy, cold colours make sense frosted. Muted colours don't. Muted colours are gentle and calm, not metallic. Dark Autumn colours are barely muted, so gentle gets replaced with assertive and maybe even a little pushy. Sometimes, we worry that dark=power and light=weak, which may be true in dictionaries but it's not how others see us. What others see is probably dark=force and light=ease (but not pushover). Dark Autumn colours wears metallic well in their warmest clothing and cosmetic colours since they convey the heat that smelts metal from ore. Metallics in their colder range are less successful.
Was your first thought when you saw the Polyvore, "I was expecting tribal and spicy. This looks pretty normal."? It has to be normal enough to wear to the office. Try putting it on a light, sunny blonde and suddenly, if it's not spicy, it's at least truly weird. She'd look like she decided to wrap herself in a Bedouin tent. Your personal power is among the wonders of this world but it only works for you, and hers for her. Power fizzles like a wet match when you try on someone else's.
So, you know your Season, you've been buying the right colours in clothes, is there another step? Always. Combining your colours in absolutely stunning combinations is another level. I am thankful to Stephanie, source of so many awareness expanders, for introducing me to Shigenobu Kobayashi's books. In his Color, Image, Scale, he takes a big selection of colours and shows you twelve truly gorgeous 3-colour combinations with each one. Isn't it interesting how 3 and 4 in the graphic above feel very different, beyond just temperature, simply from the change in accessory colour?
Whatever your Season, unless you're incredibly creative, I doubt you'd come up with some of Kobayashi's pairings on your own. I assure you that I wouldn't. For Dark Autumn's most striking use of complementary colours, insert a complement between two similiar rich colours in your palette. It looks fantastically good. The split complementary colour scheme is worth getting to know too. You pick three similar colours (analogous, colour wheel neighbors) and then add the complement of the middle one. It is worth scanning your colour analysis swatch book into a computer, or a photo of it, and using a computer program (Google it, there are  many) to give you the complements, finding them in your Book, and writing the pairs on the back. Getting the complements exactly right sets up much more vibration than guessing and only being close.
Many Dark Autumns are darker than Halle Berry. How about this woman, wearing Dark Autumn's version of white? From the clean whites in her face, you'd swear she must be wearing white, but white will grey her. It takes this colour to do what white does on a  Winter face. How cool is that?

Jessica Alba Pictures
A straight body, straight across the shoulders, they walk stiff and straight, not Summer's rolling walk or Spring's sashay. Rectangular body, linear. Similar lines in the clothes.
Comfort colours, which are often food colours, are staying in True Autumn. Dark Autumn is wild and hot and passionate > red, of course. All the reds and oranges work. Complements also raise energy, with great opportunity to use them in dark and mysterious ways, as dark olive and burnt orange/red orange/browns (dark orange).
Something about dark grey can be very warm – as Bobbi Brown was thinking when she named her eyeshadow Hot Stone. MAC Copperplate eyeshadow is a heavy good grey for Dark Autumn. I used a dark grey blouse to cool the leopard skirt. A big thick grey block can be too heavy and stuck. Add a necklace, a jacket, the coolest bag and watch, maybe the leopard skirt. Give the eye somewhere else to go. Take care with animal prints. Buy the suitcase set or the wallet. Animal prints are like leather pants, they can work against you all too easily.
Jeans are good. Keep them dark without a whole lot of orange stitching.
Dark Autumn dress by christinems featuring a cowl neck dress
Winter brings red and more black. Some of its blue is cooling the colours but you're not seeing it as blueness yet.
The colour of Eva's dress isn't dark per se. For a light colour, it's dark though. It has weight, substance, density, and naturalness. Maybe the colour is a little warmish and would suit a True Autumn more perfectly, but I give it to her anyhow for daring to be different so successfully. See how Alba's above is a little cooler, a little glitzier, perhaps less burlap? The whites of Eva's eyes aren't quite as clear. Who cares, Eva took a step towards Eva and away from cookie cutter.


Eva Longoria Pictures

Facebook Family
Colour is one half of a most beautiful appearance. Style is the other half. In the late 80s, David Kibbe wrote a book called Metamorphosis. He outlines 13 body types and goes into great detail about every aspect of appearance pertaining to that body type. Like Sci\ART's 12 Tone Season system, Kibbe's is a logic system that works for me without being overwhelming or impractical. Yes, it takes time to understand and implement but when it's right, the result is incredible. Geometry comes out of the features of your face like colours do when your palette is right. The book is so good that we talk about it a lot in our Facebook group. The next section may seem confusing without having read it.
The Dark Autumns I have met have been some type of N, C, and interestingly twice, G. They look like they have black in the way that they look like they have drama but they are more square than angular and sharp. The clothes and fabrics above are all structured because I have those women in my head when I select clothes.
I ask myself, what does a Theatrical Romantic Dark Autumn wear?  I searched and searched and found one I liked. Those who read RTYNC know that for me, certain colours make sense in shapes that evoke feelings and patterns we are familiar with from Nature. Of course, there are as  many versions as there are women. We all own more than one cookbook. None of us owns a cookbook from which we make every recipe, even from the very rare book where we tried them all. All I'm saying is that colour is more than just colour, the same colour on me and on you looks and feels totally different to the audience, and we all have a different idea of what looks good.
I looked at that dress (off shoulder, center, bottom row) for a long time wondering if something so filmy makes sense in a food and earth colour. How do you feel about it?
Einstein said "Imagination is better than Knowledge." Turns out it takes a lot more imagination to be yourself than to be someone else. I love about Kib and colour that both only want you to stay true to who you were meant to be because you're already her. You really can't not be her, ever. Your roots grew a tree that is perfect and like no other. Forget cookie-cutter. Forget "I must be blonde or size 6." If you're clinging to those, you're probably neither and people can see that. Why force your opposites to fit you? Knowledge of your colours and the essence of your body type is where you start. Trust the process of finding them. From there, imagination lets you interpret what hangs from your branches infinitely, always holding the truth of your tree. Renata chose the very adept  words 'emotionally grounded' to describe how knowing your colours and your style feels. So right.